Irvine Kinneas
17,991 pages on
this wiki
Talk

12
Guns and Women, of course.
—Irvine Kinneas, on what his "department" is
Irvine Kinneas is a playable character in Final Fantasy VIII. An expert gunman known as the "best shooter in Garden", he is a consummate ladies' man whose reputation for cherishing the company of women is almost as well known as his accuracy with the gun. He joins the party near the end of disc one, and is the last permanent member to join.
Appearance
Edit
Irvine wears his long brown hair in a ponytail and has blue eyes. He has a black cowboy hat, a purple vest, a long khaki-colored jacket, black fingerless gloves and brown chaps over black trousers with black boots. He wears grey earrings and a red and yellow beaded necklace.
Personality
Edit
An expert marksman. Can use specialized bullets to attack enemies. Doesn't perform very well under pressure.
—Scan description
Irvine is a ladies' man, plain and simple, and uses his loner sharpshooter persona to try and impress them. Irvine focuses his charms on Selphie Tilmitt, even helping her realize her dream of performing on-stage with a band to catch her attention. In Galbadia Garden Irvine is known for being the best marksman, to the point he's appointed as the SeeD's sharpshooter during an assassination mission. Despite his playful and suave persona, Irvine is not shallow; he has a sharp mind and cares deeply for the group's members.
During the time the player takes control of Irvine at Fishermans Horizon, he's questioned by one of the locals as to why he keeps company with "warmongers". Irvine retorts he doesn't enjoy being a lone sniper, that he's felt alone all of his life in his battles against pressure, that he considers the team his saviors from loneliness and calls them comrades. This provides a rare insight on Irvine's views about life and friends.
Although sometimes Irvine shows to be more cautious than his comrades, he is not a coward, shown when he provides a distraction at the Desert Prison to help his friends escape, and during the Battle of the Gardens. During the sequence at Trabia Garden Irvine extrapolates on his reasons for continuing the war against the sorceress, and says he will go on fighting to honor the choices he has made.

As the group's gunner, Irvine wields a shotgun in battle, although being a ranged fighter doesn't give him an edge like in previous Final Fantasy games, as Final Fantasy VIII doesn't have rows in battle. As a marksman and a sniper he also uses a rifle during the storyline. Irvine's guns are named after famous battleships, the majority being British. Irvine is the only playable character in Final Fantasy VIII who cannot acquire his ultimate weapon before disc 3.
There are four models for Irvine to use throughout the game:
Limit Break
Edit
Main article: Shot (Final Fantasy VIII)
Shot is Irvine's Limit Break. When executed, the player can choose from a variety of shot and ammo types and must press

to fire at an enemy. The length of the allotted time varies depending on Crisis Level. This Limit Break consumes ammo that can be bought from shops or refined from items and cards.
| LV | HP | Str | Vit | Mag | Spr | Spd | Luck |
| --- | --- | --- | --- | --- | --- | --- | --- |
| 1 | 213 | 1 | 1 | 1 | 0 | 19 | 13 |
| 10 | 579 | 8 | 6 | 8 | 6 | 21 | 14 |
| 20 | 977 | 14 | 12 | 14 | 11 | 23 | 15 |
| 30 | 1367 | 20 | 16 | 20 | 15 | 25 | 15 |
| 40 | 1750 | 25 | 20 | 25 | 19 | 27 | 17 |
| 50 | 2124 | 30 | 23 | 30 | 22 | 29 | 17 |
| 60 | 2491 | 34 | 26 | 33 | 25 | 31 | 18 |
| 70 | 2850 | 37 | 28 | 36 | 27 | 33 | 19 |
| 80 | 3202 | 40 | 30 | 39 | 28 | 35 | 20 |
| 90 | 3545 | 43 | 31 | 41 | 28 | 37 | 21 |
| 100 | 3880 | 45 | 31 | 42 | 28 | 39 | 21 |
Creation and Development
Edit
Tetsuya Nomura wanted to strike a balance with Irvine to not overshadow Squall and not be too attractive, and so gave Irvine a handsome appearance, but with a casual personality. Keeping with this idea, Nomura gave him goggles, but this idea was abandoned in favor of a cowboy-like appearance to set him apart from other goggle-wearing characters in the Final Fantasy series.[3] In the early design his hair was tied in a braid and his bangs were longer and straight.

Other Appearances
Edit
An icon sprite of Irvine appears in the PocketStation memorycard file manager.

Irvine makes a cameo as a tutor from the in-game manuals. Along with Quistis, he explains the game's accessory system.
Irvine is an ally and a summonable Legend in Final Fantasy Airborne Brigade. He is depicted in his Final Fantasy VIII outfit. His EX ability is Hyper Shot.
Irvine appears in Final Fantasy Artniks.

An expert sniper who took part in the plot to assassinate Edea. Irvine is a consummate ladies' man who acts as though he doesn't have a care in the world, but it's nothing more than show.
—Description
Irvine appears as a recruitable character in Final Fantasy Record Keeper. He is unlocked in the Fisherman's Horizon on Classic in the storyline of Final Fantasy VIII as the First Time Reward.
Stats
| Level | HP | Attack | Defense | Magic | Resistance | Mind | Accuracy | Evasion | Speed |
| --- | --- | --- | --- | --- | --- | --- | --- | --- | --- |
| 1 | 186 | 10 | 7 | 9 | 8 | 8 | 24 | 20 | 88 |
| 50 | 3,115 | 94 | 64 | 81 | 75 | 78 | 27 | 22 | 117 |
Abilities
Irvine can Black Magic up to rarity rank 1, White Magic up to rarity rank 2, and can use the following schools of Physical skillset: Combat up to rarity rank 3, and Support up to rarity rank 5.
His initial Soul Break is Normal Ammo which at the expense of one Soul Gauge segment fires successive shot attacks against a single target.
Equipment
Irvine can equip the following weapon types: daggers and guns.
He can equip the follow armor types: hats, light armor, and bracers.
He can equip accessories.
Irvine appears as a card in the Final Fantasy Trading Card Game. His card is Fire-elemental and he is depicted in his Final Fantasy VIII artwork.

Merchandise
Edit
Irvine has a Triple Triad card in the physical version of the game, released by Bandai in 1999, as well as in various other Japan-exclusive collectable card series. Irvine and Zell appear on the Guardian Force Diablos in a collectible resin statue made by KOTOBUKIYA. Irvine also has an "Extra Soldier" action figure released by Bandai during the time of Final Fantasy VIII, and a different action figure and a key chain that were once available from Japanese crane catcher games. Irvine has also appeared in Coca-Cola bottle cap figures with different styles: proportional and deformed, colored and "crystal".
Etymology
Edit
Clan Irvine is a clan from the Scottish Lowlands.
Kinneas is probably a variation of Cineas, from Ancient Greek Κινέας, Kinéas.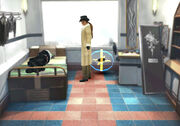 Irvine, along with Rikku from Final Fantasy X, was supposed to appear in the first Kingdom Hearts, but were replaced with Wakka and Yuffie.
If the player chooses both Rinoa and Selphie to be in Squall's party when the team is leaving Galbadia Garden, Irvine will not be impressed with the party splitting.
When not in Squall's party Irvine is hanging out in the second floor classroom watching Selphie when in Balamb Garden, or in the cockpit when on the Ragnarok.
While choosing the performers for the Garden Festival Irvine can wander around Fishermans Horizon and Balamb Garden; in the former he can be mistaken for an assassin, become a store hero and become involved with Familiar Face #3 in a philosophical debate. Aboard the Garden he has the option of hitting on all female students and visiting a sleeping Squall in his dorm room.
Irvine, along with Zell Dincht, has his birthday on a holiday. While it is not a consistent holiday (being the 4th Thursday of November in the US), Irvine's birthday is a common date on which Thanksgiving falls.
If the player plays Triple Triad enough times to start the Card Club sidequest as Irvine, they will still refer to him as Squall.
If the player challenges Irvine to a game of Triple Triad, he declines, claiming to only play against girls.
According to each main character's date of birth, Irvine is the youngest of the "orphanage gang".
References
Edit