Ad blocker interference detected!
Wikia is a free-to-use site that makes money from advertising. We have a modified experience for viewers using ad blockers

Wikia is not accessible if you've made further modifications. Remove the custom ad blocker rule(s) and the page will load as expected.
Final Fantasy X-2 Enemy
Iron Giant
鉄巨人 (Tetsukyojin)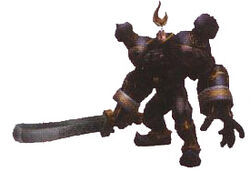 Iron Giant
Statistics
Level
HP
MP
7
222
0
Strength
Magic
Defense
48
152
1
M. Defense
Agility
Accuracy
2
93
1
Evasion
Luck
0
0
EXP
AP
Gil
20
1
40
Iron Giant
鉄巨人 (Tetsukyojin)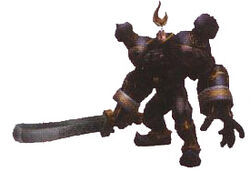 Iron Giant
Statistics
Level
HP
MP
8
233
0
Strength
Magic
Defense
48
155
4
M. Defense
Agility
Accuracy
2
121
1
Evasion
Luck
0
0
EXP
AP
Gil
100
2
110
Location
Besaid
Mi'ihen Highroad
Via Infinito Floors 1 - 3
Chapters
1, 2, 5
Common Steal
M-Bomb x2
Rare Steal
M-Bomb x4
Gil Steal
510
Common Drop
Grenade x2
Rare Drop
Grenade x3
Common Bribe
Mythril Gloves
Rare Bribe
Mythril Gloves
Abilities
Blizzara, Cura, Dispel, Fira, Thundara, Watera, White Mage-Hater
Blue Bullet
None
Status Resist
None
Status Immunity
Petrification, Silence, Poison, Confusion, Berserk, Curse, Stop, Preparation Interruption, Multiple Damage
Other Information
Armored
Normal: "A fiend that appears to be a machina, but is actually an empty suit of armor animated by pyreflies. Physical attacks are ineffective, but it is vulnerable to magic."
Oversoul: "One angry suit of armor. Something must have happened when it oversouled, because now it focuses all of its attention on attacking White Mages."
— Scan
Iron Giant is a fiend in Final Fantasy X-2. It is not a particularly difficult foe to defeat, though it does have high Attack power. Using Power Break will help remedy this, and for taking it down, any magic or physical attack should do. When it is Oversouled it has access to all four Level 2 elemental spells. Casting Nul-spells will help with dealing with this, or if the player has access to them, using Lunar Curtain, Shell, or Reflect will help in cutting down the damage. It'll also take its rage out on White Mages, so cast Protect on them if necessary.
Fiend Tale
Edit
In the Fiend Tale endings, a notable Iron Giant was actually a Pupu in an Iron Giant suit sent to observe the residents of Spira. After attempting to translate the strange "fiend", Shinra brought Iron Giant to the Thunder Plains where he witnessed the Pupu emerge from the Iron Giant suit and leave the planet with the data it gained. After witnessing this Fiend Tale Ending, the Empty Heart team appears in the Fiend Arena.
Iron Giant Coin
Coin No.
24
Coin Value
6
Trait
Multiplier Echo
Location
Found in the Western or Southern Expanses of the Bikanel Desert.
Fiend Arena
Edit

This article or section is a stub about an enemy in Final Fantasy X-2. You can help the Final Fantasy Wiki by expanding it.
Related enemies
Edit