Iron Giant (Final Fantasy VIII)
17,850 pages on
this wiki
Talk

0
Iron Giant
鉄巨人 (

Tetsukyojin

?)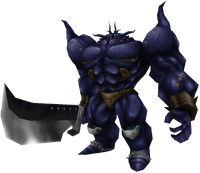 Statistics
Level
HP
Level
HP
1
631
29
19,531
STR
MAG
STR
MAG
14
3
70
9
VIT
SPR
VIT
SPR
120
1
121
4
SPD
EVA
SPD
EVA
7
0
11
1
EXP
AP
EXP
AP
140
8
980
8
Location
Esthar - Esthar City (after Lunar Cry), Tears' Point (under Lunatic Pandora), Great Plains of Esthar, Esthar City (Disc 4), Great Salt Lake, Abadan Plains, Sollet Mountains, Nortes Mountains, West Coast
Lunatic Pandora
Battleship Island - Deep Sea Deposit
Ultimecia Castle - Clock Tower, Clock's Mechanism Room, Stairway Hall
Scan
Hard to damage due to the steel armor. Doesn't use magic, but its sword causes significant damage.
Class
None
Card
Iron Giant (93.7%)
Fujin, Raijin (6.3%)
Mug (25%)
Star Fragment (100%)
Item Drop (99%)
Card Drop (3.5%)
Iron Giant
Draw
Haste
Shell
Reflect
Devour
No Good!
Abilities
Sword, Grand Sword, Mighty Guard
Other information
None
Iron Giant
鉄巨人 (

Tetsukyojin

?)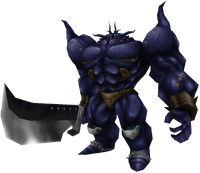 Statistics
Level
HP
Level
HP
30
20,250
39
26,851
STR
MAG
STR
MAG
72
9
89
11
VIT
SPR
VIT
SPR
121
4
122
5
SPD
EVA
SPD
EVA
11
1
12
2
EXP
AP
EXP
AP
1,010
8
1,280
8
Location
Esthar - Esthar City (after Lunar Cry), Tears' Point (under Lunatic Pandora), Great Plains of Esthar, Esthar City (Disc 4), Great Salt Lake, Abadan Plains, Sollet Mountains, Nortes Mountains, West Coast
Lunatic Pandora
Battleship Island - Deep Sea Deposit
Ultimecia Castle - Clock Tower, Clock's Mechanism Room, Stairway Hall
Scan
Hard to damage due to the steel armor. Doesn't use magic, but its sword causes significant damage.
Class
None
Card
Iron Giant (93.7%)
Fujin, Raijin (6.3%)
Mug (25%)
Star Fragment (69.5%)
Star Fragment x2 (25.8%)
Star Fragment x3 (4.7%)
Item Drop (99%)
Card Drop (3.5%)
Iron Giant
Draw
Haste
Quake
Shell
Reflect
Devour
No Good!
Abilities
Sword, Grand Sword, Mighty Guard
Other information
None
Iron Giant
鉄巨人 (

Tetsukyojin

?)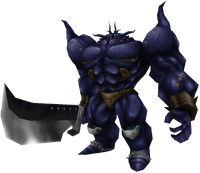 Statistics
Level
HP
Level
HP
40
27,600
100
78,000
STR
MAG
STR
MAG
91
11
207
20
VIT
SPR
VIT
SPR
122
6
126
13
SPD
EVA
SPD
EVA
12
2
20
5
EXP
AP
EXP
AP
1,310
8
3,110
8
Location
Esthar - Esthar City (after Lunar Cry), Tears' Point (under Lunatic Pandora), Great Plains of Esthar, Esthar City (Disc 4), Great Salt Lake, Abadan Plains, Sollet Mountains, Nortes Mountains, West Coast
Lunatic Pandora
Battleship Island - Deep Sea Deposit
Ultimecia Castle - Clock Tower, Clock's Mechanism Room, Stairway Hall
Scan
Hard to damage due to the steel armor. Doesn't use magic, but its sword causes significant damage.
Class
None
Card
Iron Giant (93.7%)
Fujin, Raijin (6.3%)
Mug (25%)
Star Fragment x2 (89.5%)
Star Fragment x4 (10.5%)
Item Drop (99%)
Card Drop (3.5%)
Iron Giant
Draw
Haste
Quake
Shell
Reflect
Devour
No Good!
Abilities
Sword, Grand Sword, Mighty Guard
Other information
None
Iron Giant is an enemy is Final Fantasy VIII. As the scan defines it, Iron Giant's attacks is limited to using its sword. The Grand Sword attack targets all party members. When it loses about 50% of its HP, the Iron Giant will use Mighty Guard, which casts Protect and Shell to it and its accompanying monsters.
Blind/Pain helps make the fight much easier; casting either spell or junctioning them to ST-Atk-J will blind the Iron Giant and makes his physical attacks miss, even the Grand Sword ability. Dispelling the Mighty Guard and casting Meltdown also help.
Quistis's Blue Magic, Degenerator, works well.
Iron Giant Card

Element
None
Refine
3 refine into 1 Star Fragment
Drop
Iron Giant
Card
Iron Giant
Level 5 (Monster Card)
Win
N/A
In the Japanese version of the game, Iron Giant's HP formula is .