International Version
Talk

0
15,191 pages on
this wiki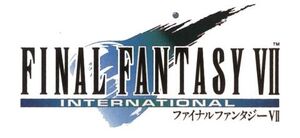 The International Version (インターナショナル版, Intānashonaru Han?) is a recurring Japan-only edition of several games in the Final Fantasy series. These versions reflect the changes made in the international adaptations of the games' original versions, including the new story elements and gameplay changes.
More recent International versions include completely new features in the games with optional tweaks in gameplay, new superbosses, and bonus dungeons; in addition, the audio is in English, with Japanese text and subtitles. They often come with extra information like design art, interviews with the creators, maps, and other features.
Appearances
Edit
The International version of Final Fantasy VII is a direct port of the North American version, including all of its gameplay and storyline tweaks. It came with an extra fourth disc that includes bonus background information about the game itself.
The International version of Dirge of Cerberus is a direct port of the North American and European versions, retaining all the gameplay changes that were made for international release.
This edition of Final Fantasy X includes new Sphere Grids, new bosses such as the Dark Aeons, and with a bonus disc filled with special features. The International version is the only version of Final Fantasy X that was released in Europe and for that reason was not tagged with the "International Edition" tag.
The International version of Final Fantasy X-2 was never released outside of Japan, unlike its predecessor. Along with the tweaks in gameplay allowing for use of additional characters and modes, this version including an extra postscript to the game called "Last Mission".
Massive changes to Final Fantasy XII were made to its International version, some so great that the gameplay is almost completely different. It includes the Zodiac Job System, a completely new variation on Final Fantasy XII's battle system. It also includes a special bonus gameplay mode called Trial Mode and a New Game Plus feature.
The Ultimate Hits International version was released for Xbox 360 in Japan on December 16, 2010. This version includes English audio with Japanese, North American and European subtitles for player to choose from. New difficulty option, Easy Mode, is added with increased enemy stagger susceptibility and Item Drop rate. The preorder bonus booklet Final Fantasy XIII -Corridor of Memory- features high resolution promotional arts, unreleased story scripts and stages and novel explaining the events after the game's epilogue.
Square Enix released a direct port of the North American version of the game in Japan on November 1, 2009.[1] It retains all of the modifications and additional content implemented in the North American version, including the new Arcade Mode and the battle rebalanced.
References
Edit