Interceptor
Talk

9
13,966 pages on
this wiki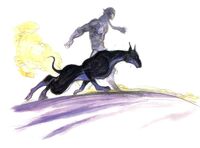 Interceptor (インターセプター, Intāseputā?) is a character in Final Fantasy VI. He is Shadow's dog, and does not leave his side. Interceptor's Yoshitaka Amano artwork and game sprite suggest he is most likely a Doberman Pinscher, Beauceron, or a mix of the two. He may also be related to the Vector Hound enemies.
Shadow acquired Interceptor from the town of Thamasa, during the time he settled there and lived a peaceful life with a local woman. One day, Shadow decides to change his name and leave town and Interceptor follows him, even if Shadow tells the dog to stay. Since then, the two have been inseparable.
Shadow likes to claim that Interceptor eats strangers, although whether or not this is true is never stated. Interceptor also apparently eats expensive food, as Shadow asks the player for 3000 gil to feed him at one point in the game. Interceptor can be ruthless at times, especially when Shadow is in danger, but he is friendly and playful to Relm Arrowny. This is one of the clues in the game that Shadow is Relm's father. If the party leaves Shadow to die on the Floating Continent, then Interceptor will be faithful to Relm.
Interceptor can help out in battle if Shadow is in the party, although not on the Floating Continent. In addition, since Interceptor's in-battle assistance is implemented as a "not named in-game" status effect, the Rippler Bug makes it possible to lose Interceptor permanently. If Shadow is attacked physically, there is a chance Interceptor will parry for Shadow, and thus he will take no damage.
If this happens, there is a small chance Interceptor will Counterattack with Takedown (spell power of 55) or Wild Fang (spell power of 66). There is a 50% chance of each being picked. Both abilities deal defense-penetrating magic damage to one enemy. These counterattacks will miss on floating targets.

Other Appearances
Edit
Interceptor makes a cameo appearance alongside Shadow and acts as tutors for the in-game manuals.