Ingus
Talk

36
13,962 pages on
this wiki
Ingus
Portraits
Sprites
{{{sprite}}}
Kana
イングズ
Romaji
Inguzu
Age
14
Hometown
Castle Sasune
First meeting
Castle Sasune
Final Fantasy III Character
"A loyal soldier of King Sasune's army, he narrowly escaped the Djinn's curse. His prime concern is finding the missing Princess Sara."
—Final Fantasy III instruction manual
Ingus is one of the main characters of Final Fantasy III since the Nintendo DS remake. Though he has no set Job class, in the opening FMV, he is portrayed as a Red Mage.
Appearance and Personality
Edit
Ingus has short blonde hair and blue eyes, and in his Freelancer outfit, wears chain mail over his body and legs, which is covered by a red gambeson, puffed-out blue sleeves, and a white collar. Being a knight, he also wears black gauntlets and greaves. Ingus's theme color is red, shown in his Job armors, while his collar and green pendant can be seen while he is wearing robes. His white belt is also a pattern used to distinguish his Job outfits from his allies'.
Ingus is described by Doga and Unei as the light of determination. He has been noble and chivalrous to his duty as a protector of Castle Sasune, and especially to Princess Sara Altney. It is suggested he has feelings for her, but had accepted his place as a mere knight, even having been an orphan. Of the party, Ingus is calm and composed, preferring to analyze the situation before taking action. He speaks in a very elegant and formal manner, and doesn't hesitate to scold Luneth for his impulsiveness.
In the opening FMV, Ingus and Luneth were shown arguing, but while the party was crossing a cave, Ingus saved Luneth from falling off a cliff. Ingus is also portrayed as a Red Mage, reflecting his versatility in battle, having had more training in combat than his allies supposedly. His depiction as a Red Mage also may be a reference to what several NPCs tell the party about the knights of Sasune. The party is told that the Red Mages of Sasune are renowned for their combat ability and skill in magic, and that every knight in Sasune aspires to become one. This could be a factor in Ingus's portrayal as a Red Mage, seeing as how he grew up as a knight of Castle Sasune.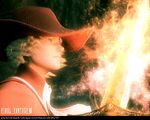 Ingus is a soldier who has sworn allegiance to the King of Sasune. Because he was out training, he managed to narrowly avoid the Djinn's curse. When he returned, he noticed Luneth, Arc, and Refia and joined forces with them. After removing the curse, he realizes he must stay with the other three, as the world depends on it.

Other Appearances
Edit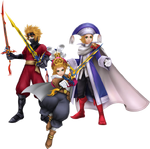 As a downloadable outfit, Onion Knight's bonus DLC outfit "Ingus" is composed of Ingus's Onion Knight, Sage, and Ninja class appearances.

Ingus appears as a Legend in Final Fantasy Airborne Brigade.
Ingus appears in a trading card in the Final Fantasy Trading Card Game. He is depicted with his CG render.
Etymology
Edit
Ingus is a variant of the Latvian name Indriķis. It is considered to be the Latvian version of Henry since both are derived from the Low German Hinrich, which contains the Germanic words for "home" and "ruler", and is often associated with kings.