The Imperial Swordsman is an Imperial Army/Imperial-type enemy in the game Final Fantasy XII. They are fought in Garamsythe Waterway as an event boss. Later, they are located in every Archadian structure in the game, but compared to other Imperial soldiers, they are not that tough.
Bestiary entry
Edit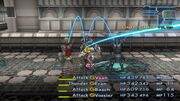 Note: All "Imperial" soldiers share one bestiary entry.
Page 1: Imperial Soldier
Edit
Being the rank and file of the Archadian Imperial Army. The greater part of the Imperial army is comprised of swordsmen. In addition are hoplites in heavy armor for charging enemy fortifications, mages for ranged support, and others still for various, more specialized roles.
Page 2: Mastiff
Edit
Dogs specially trained for battle. Their ability to follow commands and unswerving loyalty make them a vital part of the Imperial war machine. Training takes place at the hands of skilled "beast tamers", with a mastiff usually requiring two to three years before it is ready to see combat.
Final Fantasy XII enemy stats
Elemental affinities
100%
100%
100%
100%
100%
100%
100%
100%
Statuses and immunities*

% refers to chance to spawn under status

0%
0%
0%
0%
Immune
0%
0%
0%
0%
0%
0%
0%
0%
0%
0%
Immune
0%
0%
0%
0%
0%
0%
0%
Immunities granted by Safety
0%
Enemy has innate Safety; additional immunity to Instant Death, Warp, Poach, Fractional Damage (Gravity, Graviga), "Fang" items, Sight Unseeing, Syphon, Charm, Achilles
Related Enemies
Edit
Ad blocker interference detected!
Wikia is a free-to-use site that makes money from advertising. We have a modified experience for viewers using ad blockers

Wikia is not accessible if you've made further modifications. Remove the custom ad blocker rule(s) and the page will load as expected.