Imperial Swordsman
Talk

0
13,959 pages on
this wiki
Final Fantasy XII Enemy
Imperial Swordsman
帝国軍剣士 (Teikoku-gun Kenshi)

Minimum Stats
Maximum Stats
Level
Level
3
50
HP
MP
HP
MP
70
25
4,149
740
Strength
Magic
Strength
Magic
8
2
39
26
Defense
Mag Def
Defense
Mag Def
2
5
28
32
Vitality
Speed
Vitality
Speed
13
9
52
26
Attack
Evade%
Attack
Evade%
7
0
73
9
EXP
LP
EXP
LP
0
0-2
1,687
0-2
CP
Gil
CP
Gil
0
0
595
153

Bestiary Location
The Archadian Empire
Location
Nalbina Fortress, Nalbina Dungeons, Garamsythe Waterway, Dreadnought Leviathan, Draklor Laboratory, Sky Fortress Bahamut
Common Steal
Potion, X-Potion
Uncommon Steal
Phoenix Down, 300 gil, 150 gil, Hi-Potion
Rare Steal
150 gil, 100 gil, 180 gil, Hi-Potion
Common Drop
None
Uncommon Drop
Potion, Hi-Potion, Phoenix Down
Rare Drop
Phoenix Down, Hi-Potion
Very Rare Drop
Hi-Potion, X-Potion
Monograph Drop
None
Canopic Jar Drop
None
Common Poach
Pebble, Potion
Rare Poach
Pebble, Potion
Attacks
(2-hit max), Lunge, Tri-Attack
Abilities
Water Spout
Innate abilities
Safety, Shield Block, Counter,
If HP <50% - Null Evade
Immune to
Reverse, Lure
Other Information
Some varieties have Protect, Haste (50%). One variety always has Protect.
The Imperial Swordsman is an Imperial Army/Imperial-type enemy in the game Final Fantasy XII. They are fought in Garamsythe Waterway as an event boss. Later, they are located in every Archadian structure in the game, but compared to other Imperial soldiers, they are not that tough.
Bestiary Entry
Edit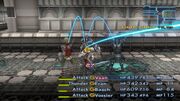 Note: All "Imperial" soldiers share one bestiary entry.
Genus: Archadian Empire
Class: Imperial
Page 1: Imperial Soldier
Edit
"Being the rank and file of the Archadian Imperial Army. The greater part of the Imperial army is comprised of swordsmen. In addition are hoplites in heavy armor for charging enemy fortifications, mages for ranged support, and others still for various, more specialized roles."

Page 2: Mastiff
Edit
"Dogs specially trained for battle. Their ability to follow commands and unswerving loyalty make them a vital part of the Imperial war machine. Training takes place at the hands of skilled "beast tamers", with a mastiff usually requiring two to three years before it is ready to see combat."
Related Enemies
Edit