Vagrant Story Enemy
Imp
[[Vagrant Story/Translations|]] (')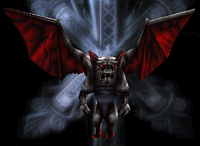 Statistics
Class
HP
MP
Evil
150
70
Strength
Intelligence
Agility
131
128
125
Affinities
Ph.
Ai.
Fi.
Ea.
30
25
42
38
Wa.
Li.
Da.
24
8
49
Type
Blunt
Edged
Pierce
7
3
12
Affinities
Ph.
Ai.
Fi.
Ea.
30
25
42
38
Wa.
Li.
Da.
24
8
49
Type
Blunt
Edged
Pierce
7
3
12
Affinities
Ph.
Ai.
Fi.
Ea.
30
25
42
38
Wa.
Li.
Da.
24
8
49
Type
Blunt
Edged
Pierce
5
0
7
Affinities
Ph.
Ai.
Fi.
Ea.
30
25
42
38
Wa.
Li.
Da.
24
8
49
Type
Blunt
Edged
Pierce
8
2
11
Affinities
Ph.
Ai.
Fi.
Ea.
30
25
42
38
Wa.
Li.
Da.
24
8
49
Type
Blunt
Edged
Pierce
10
3
15
Affinities
Ph.
Ai.
Fi.
Ea.
30
25
42
38
Wa.
Li.
Da.
24
8
49
Type
Blunt
Edged
Pierce
12
5
17
| | |
| --- | --- |
| Location | The Keep |
| Item Dropped | |
| Abilities | |
| Weapon | {{{Weapon}}} |
| Shield | {{{Shield}}} |
| Accessory | {{{Accessory}}} |
| R. Arm | {{{Equip1}}} |
| L. Arm | {{{Equip2}}} |
| Head | {{{Equip3}}} |
| Body | {{{Equip4}}} |
| Wings | {{{Equip5}}} |
| Legs | {{{Equip6}}} |
Messengers of the Underworld that swoop down to attack with weapons and magic.
—In-game description
Imp is an enemy from Vagrant Story.
Etymology
Edit
[view · edit · purge]An imp is "a small, mischievous devil or sprite."
Related enemies
Edit
Ad blocker interference detected!
Wikia is a free-to-use site that makes money from advertising. We have a modified experience for viewers using ad blockers

Wikia is not accessible if you've made further modifications. Remove the custom ad blocker rule(s) and the page will load as expected.