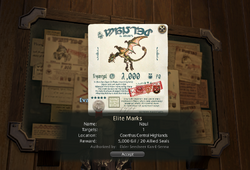 Hunts are sidequests in Final Fantasy XIV: A Realm Reborn in which the player hunts down particular monsters. Hunt bills are pinned on the notice board in all three headquarters of the Grand Companies of Eorzea.
The monsters being hunted are referred to as "Marks". There are 3 ranks of marks; B, A, and S. The higher rank the more rewards for the hunter.
The hunt sidequests are inspired by the Hunts sidequests in Final Fantasy XII.
Zone
Marks
B
A
S
Eastern La Noscea

Bloody Mary

Hellsclaw

Garlok
Lower La Noscea

Barbastelle

Unktehi

Croakadile
Middle La Noscea

Skogs Fru

Vogaal Ja

Croque-Mitaine
Outer La Noscea

Vuokho

Cornu

Mahisha
Upper La Noscea

Myradrosh

Marberry
Nandi
Western La Noscea

Dark Helmet

Nahn

Bonnacon
Zone
Marks
B
A
S
Central Shroud

White Joker

Forneus

Laideronnette
East Shroud

Stinging Sophie

Melt

Wulgaru
North Shroud

Phecda

Girtab

Thousand-cast Theda
South Shroud

Monarch Ogrefly

Ghede Ti Malice

Mindflayer
Zone
Marks
B
A
S
Central Thanalan

Ovjang

Sabotender Bailarina

Brontes
Eastern Thanalan

Gatling

Maahes

Lampalagua
Northern Thanalan

Flame Sergeant Dalvag

Dalvag's Final Flame

Minhocao
Southern Thanalan

Albin the Ashen

Zanig'oh

Nunyunuwi
Western Thanalan

Sewer Syrup

Alectryon

Zona Seeker
Zone
Marks
B
A
S
Coerthas Central Highlands

Naul

Maracco

Safat
Zone
Marks
B
A
S
Mor Dhona

Leech King

Kurrea

Agrippa the Mighty
In patch 2.3, the maximum reward for hunting down B marks was 5 Allied Seals, 20 Allied Seals for A marks, and 50 Allied Seals for S marks.
In patch 2.35, rewards for open-world hunting and killing of B marks were removed entirely. Only those players who obtained a weekly mark bill for a specific B-rank mark could obtain a single reward of 50 allied seals.
In Patch 2.5, all hunt mark rewards were doubled - 100 seals for a weekly B rank, 40 seals for an A rank, and 100 seals for an S rank.