Hundred Gunner
Talk

0
13,961 pages on
this wiki
Final Fantasy VII Boss
Hundred Gunner
ハンドレッドガンナー (Handoreddo Gannā)

?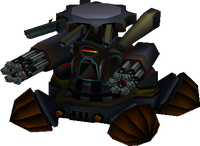 Statistics
Level
HP
MP
18
1,600
0
Attack
Magic
Defense
52
0
46
M. Defense
Dexterity
Evade
240
63
1
EXP
AP
Gil
330
35
300
Location
Midgar - Shinra Building Elevator
Steal
Nothing
Item Drop
Nothing
Morph
N/A
Abilities
Aux Artillery*, Hidden Artillery*, Main Artillery**, Wave Artillery***
Enemy Skill
N/A
Status immunity
Death, Sleep, Poison, Sadness, Fury, Confusion, Silence, Frog, Small, Slow Numb, Petrify, Death Sentence, Manipulate, Berserk, Paralyze, Stop, Darkness
Manipulate
Couldn't manipulate.
Other information

-Abilities which names are not shown when used are highlighted in italics.
-The party cannot escape.
-Long Range enemy.
-EXP/AP/gil from Hundred Gunner is not gained when defeated, and is not earned until the party defeats Heli Gunner.
-*Only used in first form.
-**Only used in second form.
-***Only used in third form, after charging Sensor Cannon.
The Hundred Gunner is a boss in Final Fantasy VII. Barret Wallace, Aeris Gainsborough and Red XIII encounter it in the Shinra Building. Instead of the boss theme, the regular battle theme plays during the battle.
Barret is the only party member who can reach Hundred Gunner with normal attacks. Aeris and Red XIII must use Limit Breaks or magic. The player should have them cast Bolt as much as possible, as Hundred Gunner is weak against Lightning.
Hundred Gunner starts in a form where it only uses Aux Artillery and the more powerful Hidden Artillery. After falling below 1066 HP, its guns fold back and it instead uses Main Artillery, which hits the whole party. When its HP is reduced to 533, Hundred Gunner changes into its final form, where it uses its most powerful attack, the Wave Artillery. Wave Artillery is used after its Sensor Cannon is fully charged.
After Hundred Gunner is destroyed, the player moves on directly to the battle with Heli Gunner without yet gaining EXP, AP or gil, which are obtained after the battle with Heli Gunner.
AI Script
Edit
AI: Setup {
Choose Self
Use <Glass Shatter> on Target
Hundred Gunner's Range = 16
} AI: Main {
If (Hundred Gunner's IdleAnim == 1st Form) Then
{

Choose Random Opponent
If (TempVar:OpeningAttack == 0) Then
{

Use Aux Artillery on Target
TempVar:OpeningAttack = 1

} Else {

1/4 Chance: Use Hidden Artillery on Target
3/4 Chance: Use Aux Artillery on Target

}

} Else If (Hundred Gunner's IdleAnim == 2nd Form) Then {

Choose All Opponents
Use Main Artillery on Target

} Else {

If (TempVar:ChargeCount < 2) Then
{

Choose Self
Use <Charging> on Target
If (TempVar:ChargeCount = 0) Then
{

Print Message [Sensor Cannon Charging!]

} Else {

Print Message [Sensor Cannon Charged!]

}
TempVar:ChargeCount = TempVar:ChargeCount + 1

} Else {

Choose All Opponents
Use Wave Artillery on Target
TempVar:ChargeCount = 0

}

}
} AI: Counter - General {
If (Stage == 0) Then
{

If (Hundred Gunner's HP <= 2/3rds of Hundred Gunner's Max HP) Then
{

Choose Self
Use <Destroyed> (1st Form Version) on Target
Hundred Gunner's IdleAnim = 2nd Form
Hundred Gunner's HurtAnim = Flinch (2nd Form)
Stage = 1

}

} Else If (Stage == 1) Then {

If (Hundred Gunner's HP <= 1/3rd of Hundred Gunner's Max HP) Then
{

Choose Self
Use <Destroyed> (2nd Form Version) on Target
Hundred Gunner's IdleAnim = 3rd Form
Hundred Gunner's HurtAnim = Flinch (3rd Form)
Stage = 2

}

}
} AI: Counter - Death {
Remove Self
}