Humbaba (Final Fantasy X-2)
Talk

0
13,959 pages on
this wiki
Final Fantasy X-2 Boss
Humbaba
フンババ (Funbaba)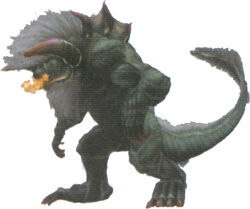 Behemoth
Statistics
Level
HP
MP
52
27,772
785
Strength
Magic
Defense
93
7
13
M. Defense
Agility
Accuracy
11
87
6
Evasion
Luck
0
0
EXP
AP
Gil
1,800
1
550
| | |
| --- | --- |
| Location | Thunder Plains, Via Infinito Floors 36 - 39 |
| Chapters | 5 |
| Common Steal | Hi-Potion x2 |
| Rare Steal | Ether |
| Gil Steal | 1,800 |
| Common Drop | Hi-Potion x4 |
| Rare Drop | NulShock Ring |
| Common Bribe | Nature's Lore |
| Rare Bribe | Nature's Lore |
| Abilities | Uppercut, Tyrant Tail, Mighty Guard, Thundara, Thundaga, Meteor* |
| Blue Bullet | Mighty Guard |
| Status Resist | Eject (48), Zantetsu (33) |
| Status Immunity | All but Eject, Power Break, Magic Break, Armor Break, Mental Break, Luck Change, Evasion Change, Accuracy Change (more clarity needed) |
| Other Information | {{{Info}}} |
Humbaba
フンババ (Funbaba)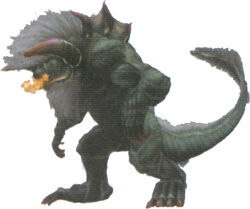 Behemoth
Statistics
Level
HP
MP
62
30,163
785
Strength
Magic
Defense
93
7
13
M. Defense
Agility
Accuracy
11
113
8
Evasion
Luck
0
0
EXP
AP
Gil
2,300
2
700
| | |
| --- | --- |
| Location | Thunder Plains, Via Infinito Floors 36 - 39 |
| Chapters | 5 |
| Common Steal | Tetra Guard |
| Rare Steal | Tetra Guard |
| Gil Steal | 3,800 |
| Common Drop | Ochre Ring |
| Rare Drop | Ochre Ring |
| Common Bribe | Nature's Lore x3 |
| Rare Bribe | Nature's Lore x4 |
| Abilities | Eyeing Paine, Eyeing Rikku, Eyeing Yuna |
| Blue Bullet | N/A |
| Status Resist | Eject (46), Zantetsu (38) |
| Status Immunity | All but Eject, Power Break, Magic Break, Armor Break, Mental Break, Luck Change, Evasion Change, Accuracy Change (more clarity needed) |
| Other Information | {{{Info}}} |
The Humbaba is an enemy in Final Fantasy X-2.
It is advisable to use Samurais and White Mages, and augment DEF to the limit, for Humbaba has enormous STR. Dark Knights are not recommended as they require quite some time before they can attack again.
As soon as battle starts, Humbaba will cast Mighty Guard. The party should use the Samurai's Fingersnap to clear off stat boosts, while the White Mage's Dispel takes care of statuses Humbaba has gained. Alternately, Humbaba's weakness is in the MP field, if the player drains all of Humbaba's MP they can stop Humbaba from using Mighty Guard, which is used again when Humbaba loses 66% of its HP, and Thundaga. Once Humbaba has lost its MP all that is left to worry about are Humbaba's physical attacks.
Humbaba's Uppercut deals around 1,500 damage and carries a huge delay, so having fast characters is recommended. Once Humbaba loses 66% of HP, it gains access to the Tyrant Tail attack, which hits all girls for about 800 damage and has small delay effect. Swipe inflicts moderate damage of about 400 to one girl. It is recommended to apply Protect against these attacks.
Once Humbaba is defeated, it will cast Meteor as a last resort to kill the party. The only way to not see Meteor is using Eject techs on Humbaba (also the fastest way to win the battle) or bribing it. Another option to survive Meteor is to finish the battle with a special dressphere.
Humbaba, along with Angra Mainyu, are the only enemies in game to play aeon-battle exclusive music piece known in Final Fantasy X-2 as "Summoned Beasts" or "Aeons".
Related Enemies
Edit