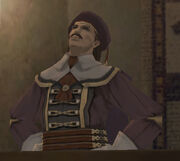 Hrichter Karst is a character in Final Fantasy XI. He is President of the Republic of Bastok, and a controversial figure among many in the Republic. It is said that he only won his position due to the support of Cid. Karst is son of Derek Karst and the father of Cornelia.

This article or section is a stub about a character in Final Fantasy XI. You can help the Final Fantasy Wiki by expanding it.
Ad blocker interference detected!
Wikia is a free-to-use site that makes money from advertising. We have a modified experience for viewers using ad blockers

Wikia is not accessible if you've made further modifications. Remove the custom ad blocker rule(s) and the page will load as expected.