Hope Estheim
19,484 pages on
this wiki
Talk

99
Hope Estheim is a playable character in Final Fantasy XIII, who also appears in a major supporting role in Final Fantasy XIII-2 and Lightning Returns: Final Fantasy XIII. He is the son of Nora and Bartholomew Estheim.
In Final Fantasy XIII, Hope and his mother are caught up in the Purge as victims of circumstance, and eventually chooses to journey with Lightning to become stronger.
In Final Fantasy XIII-2, the adult Hope is the director of the research institute called the Academy, and he helps Serah and Noel in their quest to save the future.
In Lightning Returns: Final Fantasy XIII, Hope allies with Lightning when she is chosen as Bhunivelze's savior and watches over her from within his Ark, acting as her faraway navigator and informant.
Appearance
Edit
Hope has short silver hair and light blue-green eyes. In Final Fantasy XIII Episode Zero -Promise-, Lightning says Hope's face resembles his mother's. Of all the playable characters, he is the shortest and the youngest. He wears a short-sleeved orange and yellow jacket with a green neckerchief over a black shirt, and black gloves with white palms. He wears green cargo pants with a black storage pack hanging from a black belt over his left leg, and green boots. His l'Cie brand is on his left wrist, covered by a yellow wristband.
In Final Fantasy XIII-2, Hope has slightly longer hair, retains his yellow wristband, but now wears an Academy uniform of a long-sleeved yellow and white coat with a light blue necktie. He wears light gray pants, black boots, and has black and red storage packs along the left shoulder and waist of his coat. Hope keeps his boomerang.
In Lightning Returns: Final Fantasy XIII Hope wears nearly identical attire to his Final Fantasy XIII outfit, only with a black-and-white chequered scarf rather than a green one.
Personality
Edit
Hope is close to his mother, confiding in her and relying on her for protection, but has had a distant relationship with his father ever since he reached adolescence. In Final Fantasy XIII -Episode i-, Hope says he runs from his problems, specifically things he can't change.
Hope starts off as naive, insecure, and sensitive. His speech is normally reserved but he has outbursts when his emotions get the best of him. His naivety makes him quick to blame others for his misfortunes, and he is easily affected by harsh words and rash actions, especially when they involve personal subjects. Hope has little to no battle experience and fears confrontation, and thus tries to flee from a fight when he has the chance.
Hope initially turns to Vanille for emotional support and protection, but later depends on Lightning as he comes to idolize her and tries to follow her example. Under her tutelage he matures into an efficient fighter and confident individual in control of his emotions. Hope becomes willing to throw himself into harm's way for the sake of others, show his sense of humor, and comfort his friends. Hope advises his companions and remains positive in dire situations, ultimately living up to his namesake.
In Final Fantasy XIII-2, Hope has grown into an intelligent and confident leader, admired by many, but continues to show moments of vulnerability whenever he reflects on his past.
During Lightning Returns: Final Fantasy XIII, Hope has physically regressed to his 14-year-old self from Final Fantasy XIII. His personality is still that of an adult, though his emotions have been sapped, distancing him from the woes of the world below. He has become emotionally disconnected from his memories, remembering past events as though he wasn't there. He still trusts and cares about Lightning, supporting her at all times and promising to be on her side no matter what decisions she makes.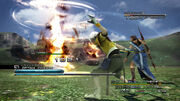 Hope is the most supportive-oriented character in Final Fantasy XIII, and the only character having only one offensive primary paradigm role. He specializes in casting magic, although his casting speed for offensive magic is not as fast as some of the more offensively-geared characters'.
Hope's strength lies as a Ravager; out of the six playable characters he has the highest Magic stat, and is the only one to learn all elemental spells up to the -ga level, though he lacks the -strike skills, meaning he cannot physically attack in the role. He learns all the Ravager's passive abilities.
Hope's Full ATB skill, Last Resort, deals non-elemental magic damage to random targets. He is a great Ravager, but is outclassed by Lightning, Snow and Fang by endgame where casting speed matters more than damage or versatility, seeing that area spells or elemental exploitation matter less due to all the tough enemies being singular, and Imperil making elemental weaknesses less relevant.
As a Synergist he is proficient with defensive buffs, learning Protect, Shell and the Bar-Spells the earliest. Hope learns Haste as his last spell, but once he does, he can outperform Sazh as a Synergist.
Hope learns all the spells as a Medic, making him possibly the best Medic in the game. Vanille learns the spells earlier, but Hope tends to have higher Magic and a faster casting speed.
Hope can function as a Commando, but has rather slow casting animation for offensive spells, and he doesn't learn Launch or Adrenaline. He can deal damage with Ruin and Ruinga with his high Magic, and he only requires minimal investment to get Ruin.
Hope's weakest roles are Sentinel and Saboteur. As Sentinel Hope resembles Lightning, learning Elude and Evade and even Entrench and Vendetta. As a Saboteur Hope learns the multi-target -ga level debuff spells, meaning each spell costs him three ATB segments, and while they can hit multiple enemies, the success rate for each enemy is reduced. The battles where debuffs are needed the most are usually against a single strong enemy, making the area versions less useful.
Hope has the lowest HP of all the playable characters, but he has the highest Magic.
Base statistics
| Stat | Beginning | l'Cie | Mastered Crystarium |
| --- | --- | --- | --- |
| HP | 170 | 270 | 18,000 |
| Strength | 8 | 23 | 1,100 |
| Magic | 20 | 35 | 1,900 |
Alexander is a non-elemental Eidolon who turns into a fortress in his Gestalt Mode. When Hope calls for Alexander, he is launched from an even larger fortress in the sky.
Hope is the only member of the main party whose Eidolon is the same gender as their l'Cie partner.

Hope fights with boomerangs that, thanks to Antimatter Manipulation Principle and design, he can throw once and hit multiple enemies without having to throw it again. When performing multiple physical attacks using his boomerang as a Commando, Hope moves his hand as if to throw it again even though it is not in his hand. Hope is the only one able to cast Ruin without holding his weapon; this can be accomplished by choosing Attack first and stacking Ruin after.
Hope's weapons have inscriptions with the names of mythological birds; Hope's initial weapon, Airwing, has an inscription that reads "Phoenix". In Final Fantasy XIII-2 his weapon has an inscription reading "To the heavens soars the phoenix". In Final Fantasy XIII, Hope is the only character whose default weapon has a passive ability.
Hope puts his boomerang away as his victory pose, but if seen from behind, the boomerang vanishes. Cutscenes avoid showing where he pulls it from with camera angles cutting it off screen. It is never implicitly stated where Hope received his first boomerang; the first time it is shown is during the scene where Vanille receives her weapon, but she does not give the boomerang to Hope. Hope has the Airwing equipped to him before this scene, while Vanille doesn't have the Binding Rod equipped until she finds it. It is left unclear as to whether or not he had it with him in Bodhum.
Hope's starting weapon, Airwing, is balanced with slightly higher Strength. It is quickly outclassed. It has "Critical: Shield". Ninurta has equal Magic and Strength, and has "Physical Wall". Hope, however, doesn't need balanced stats as he is geared toward Magic use in the roles he is most proficient in. With Ninurta Hope is still going to have a better Magic; the Strength stat would only be used as a Commando when manually selecting Attack.
Hawkeye boosts Hope's Magic the most, supporting him in his main roles of Ravager, Medic and Synergist, making it possibly his best weapon for upgrading, seeing that he receives it early and upgrading it is not expensive.
Vidofnir has "Defense Maintenance" that at Lv I makes buffs last x1.4 longer, and at Lv II x1.8 longer. It also has "Buff Duration". This weapon augments his Synergist abilities, but doesn't give as much Magic as Hawkeye.
Alicanto has balanced yet mediocre Strength and Magic and "Stagger Lock". As Hope's main offense is in Ravager role, he will likely struggle to benefit from this weapon, seeing as his normal balanced weapon even has better stats than this one.
Simurgh is Hope's Strength boosting weapon with "Stifled Magic" and the synthesized ability "Ethereal Mantle". He'll be immune to physical attacks, but magical attacks still hurt, healing magic will have no effect on Hope, and one would need to equip him with four Kaiser Knuckles to synthesize the Ethereal Mantle.
Otshirvani has "Siphon Boost" that augments the effects the Commando's Faultsiphon and Lifesiphon and the Ravager's Fearsiphon; Lv I boosts them by x1.5 and Lv II by x2. "ATB Rate" can be synthesized for a speed bonus. It has average stats with more Magic.
Malphas is the weapon sold by Gilgamesh, Inc.. It has balanced stats of high Strength and Magic and "Paper Tiger" that cuts his HP; especially bad for Hope as his is already low. It has the synthesized "Damage Wall".
Creation and development
Edit
Hope was designed by Tetsuya Nomura for Final Fantasy XIII and Hideo Minaba designed his clothes for Final Fantasy XIII-2.[2] Lightning was originally designed as a silver-haired character, but when the decision was made to make her pink-haired, the silver hair was transferred to Hope.[3]
An early pink-haired model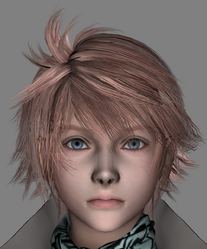 of Hope exists on the E3 Preview Disc of Final Fantasy XIII when Hope hasn't yet been shown to the public, and his model and textures were still unfinished. A pink-haired Hope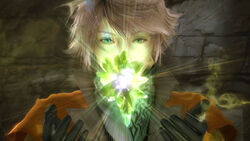 appeared in a trailer for the game, but his features were distorted by his summoning animation. A very early model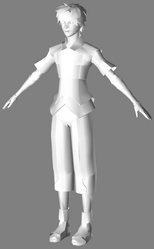 (placeholder/draft) for Hope with no textures also exists on the preview disc where his hair is shorter and his jacket is longer with a different style. This appears to be from the early PlayStation 2 version before development moved onto PlayStation 3.
For Final Fantasy XIII-2, the game's director, Motomu Toriyama, felt keen to portray Hope as a more mature person; that's why he returns to the story as a grown-up who works as a leader of the Academy.[4]
The Final Fantasy XIII-2 Ultimania Omega producer and director interview reveals scrapped plans for a Hope downloadable content (DLC) scenario episode, in the vein of Sazh's, Snow's and Lightning's episodes. Originally, a DLC was planned involving Hope and a journey through the Augusta Tower. Players would have ventured through the tower, completing a number of Live Triggers. The aim was to stop Alyssa from killing Hope, and based on player's Live Trigger choices, player would have either continued the game or receive a game over.[5]
There are some hints that point toward Hope being planned as a playable character for Final Fantasy XIII-2 at some point during development. He seems to have some combat data and even a chocobo riding animation, but it is unknown if these were meant for his scrapped DLC episode. A young version of Hope is found in the game data, which is not the same model as the one used in Final Fantasy XIII, although it has the same clothes and otherwise similar appearance. It is unknown why a model of a young Hope was made for Final Fantasy XIII-2, which was never used.
Director Motomu Toriyama commented on Hope's role as a secondary character in Lightning Returns: Final Fantasy XIII thus: "Hope Estheim is for us only a secondary character, even though we love him no matter what. He only lacks something that gives him the heroic image, like Lightning or Noel."[6] One of the main themes of Lightning Returns is how much Hope grew and matured in Lightning's "motherly" point of view. In Final Fantasy XIII, Lightning acted like a mentor and surrogate mother to Hope, and has not interacted with him since the original game. Now that Hope helps Lightning in her new mission, she gets to see how much he has changed.[7]
The Lightning Returns: Final Fantasy XIII Ultimania states that Hope, having the soul of his 27-year-old self from Final Fantasy XIII-2, means that his younger appearance in the ending is a temporary form, and implies he could have returned to his adult form in the new world, which is proven true in the novel Final Fantasy XIII: Reminiscence -Tracer of Memories-. It also reveals that Lightning Returns's main plot revolves around the two questions of "Who will be the last soul Lightning will save and who will, then, save Lightning?", and Hope was chosen as the answer to both.
Hope is voiced by Yūki Kaji in Japanese and by Vincent Martella in English. Hope shares his Japanese voice actor with Bhunivelze and with Ace from Final Fantasy Type-0.

Musical themes
Edit
Final Fantasy XIIIEdit
"Hope's Theme", composed by Masashi Hamauzu, is a melancholy tune composed with acoustic guitar representing his sensitive and vulnerable nature, as well as the emotions he goes through while coping with the loss of his mother.
There are two variants of his theme: the orchestral version is titled "Sustained by Hate", and the slow, acoustic version called "This Is Your Home".
Arrangement album Appearances
Edit
A piano version of his theme titled, "Hope_PfNer3", is included on the album as the sixth track.
Final Fantasy XIII-2Edit
"Hope's Theme - Tomorrow's Dream -" is a calm, mellow, rustic, and jazzy rearrangement of his original theme, and a variant of the main theme, "FINAL FANTASY XIII-2 - Wishes -". It is composed with acoustic guitar, violin, and piano. While it hints at his vulnerability like his original theme, it also symbolizes his wish to bring back the people who are dear to him.

Merchandise
Edit
Action figures of Hope from Final Fantasy XIII were released as a part of the Plays Arts series, Final Fantasy XIII Trading Arts and figures released alongside the Suntory Elixir energy drink.
Other appearances
Edit
Hope appeared as a recruitable character. He was of the Visitor race and had Navigator as his main job. His attack was Air Wing and his ability was Last Resort.
Hope makes a cameo appearance as a tutor in the in-game manual. He teaches the player about Assists alongside Fang.
Hope is a purchasable character in the iOS version.
Hope returns as an playable character, and is unlocked by collecting White Crystal Shards.
He is a Spell oriented character. His Limit, Last Resort, deals damage in proportion to his Magic and Spirit.
| Level | CP | HP | Strength | Magic | Agility | Luck | Stamina | Spirit |
| --- | --- | --- | --- | --- | --- | --- | --- | --- |
| 1 | 12 | 148 | 10 | 17 | 10 | 14 | 8 | 17 |
| 50 | 39 | 2552 | 80 | 136 | 78 | 111 | 62 | 138 |
| 99 | 50 | 3926 | 120 | 206 | 117 | 168 | 93 | 208 |
Abilities
Edit
Hope is a summonable Legend in Final Fantasy Airborne Brigade.
Hope is a playable character who could be recruited during the Challenge Event Chasing Hope as the First Time Reward for completing the event's The Palamecia - Bow stage on the Classic difficulty. He was also available in Fang's Oath.
Assessment
Hope's combat role is Physical/Magic Hybrid.
Though listed as a fighter-mage, Hope's stat growth favors attack magic more than physical might. In fact, he's a direct complement to Vanille from the same Record Realm, who favors healing magic. Like Vanille, Hope can function as a mid-ranked Summoner. Using him as a Black Mage, however, should suffice for most players.
Stats
Level
HP
Attack
Defense
Magic
Resistance
Mind
Accuracy
Evasion
Speed
1
170
8
7
11
9
11
20
20
92
10
661
20
15
35
23
28
20
20
96
20
1,208
34
24
58
39
47
20
21
101
30
1,754
49
35
79
54
66
21
21
106
40
2,301
63
46
99
70
86
21
22
112
50
2,847
77
58
118
86
105
22
22
118
60
3,393
91
70
136
102
124
23
23
124
Rank

Max: 5

2
2
1
5
3
4
3
3
3
Abilities
Hope can use Black Magic spells up to rarity rank 5, White Magic spells up to rarity rank 4, and Summoning spells up to rarity rank 5.
His default Soul Break is Fearsiphon, which at the expense of one Soul Gauge segment deals damage to the enemy and grants Haste to the user. The thrown Skycutter (XIII) allows Hope to use Brutal Sanction, which at the expense of one Soul Gauge segment deals non-elemental magic damage to three random targets, each hit dealing 350% damage potency of a conventional magic attack totaling to 1050% damage potency, and inflicts Stop with 50% accuracy for 6 seconds. The thrown Airwing (XIII) allows Hope to use Earthquake, which at the expense of one Soul Gauge segment deals magic earth damage to all targets equal to 855% damage potency of a conventional magic attack and reduce their Attack by 50% for 25 seconds.
Equipment
Hope can equip the following weapon types: daggers, rods, staves, and thrown. The thrown Skycutter (XIII) and Airwing (XIII) allows Hope to use Brutal Sanction and Earthquake respectively.
He can equip the following armor types: shields, hats, light armor, robes, and bracers.
He can equip accessories.
Hope is featured on multiple cards. One of his cards depicts an FMV shot of him in the Hanging Edge, another is his Final Fantasy XIII CG render, and the other is his Final Fantasy XIII-2 CG render. Alexander's card depicts him with Hope alongside him. He also has a card with his Lightning Returns: Final Fantasy XIII render and his Theatrhythm Final Fantasy artwork. Hope's cards appear within the "Wind" set.
Hope appears on Triple Triad cards in the version available via the Final Fantasy Portal App.
Final Fantasy XIII
Final Fantasy XIII-2
Lightning Returns: Final Fantasy XIII
Etymology
Edit
It is possible the name "Hope" was chosen for him because initially Hope was the negative one of the group, but after going through the journey's trials and tribulations he lives up to his name, "hope" for Cocoon, to free it from the fal'Cie's control. [view · edit · purge]Est is Latin for "is". [view · edit · purge]Heim is German for "home". Thus his full name means "hope is home". This is alluded to by Lightning in Chapter 7, when she says he needs to discover what hope he was named for by going home and talking to his father. His name is also an anagram of "the hope is me".
In Final Fantasy XIII, while Hope sometimes refers to Lightning as "Light" in the English version, he calls her "Light-san" for the rest of the game after she tells him to in the Japanese version. Presumably a minor error, Hope will sometimes call Lightning "Light" in battle shortly before the cutscene in which she tells him to do so.
Hope's eidolith is in the shape of a star, almost resembling the crystal in the Final Fantasy IX logo.

Hope's crystal is used for the "Instrument of Change" trophy/achievement.
The Crystal Star can be acquired as an adornment in Final Fantasy XIII-2 and Lightning Returns: Final Fantasy XIII.

The animation sequence for Hope's full ATB skill, Last Resort, resembles the White Magic spell Holy in previous Final Fantasy games. Furthermore, Alexander is the series' main Holy-elemental summon.
In Episode Zero -Promise-, it is revealed Hope once visited the Sunleth Waterscape on a school field trip when he was eight, and that Sazh was the pilot of his class's transport airship.
According to the datalog in Final Fantasy XIII-2, Hope is a favorite among the people of Academia.
Despite not having much interaction with Fang, in a Live Trigger in Academia 4XX AF, Hope mentions that he always admired her strength.
The Eshtaime Lapidaries (Goldsmith guild) of the Ul'dah city-state in Final Fantasy XIV derives its name from Hope's surname.
References
Edit