Relm
:
I couldn't miss the chance to practice my drawing!
This article is in need of a few pictures. Perhaps you can help by uploading a picture.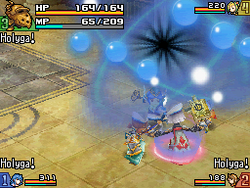 Holyga (ホーリガ, Hōrīga?) is a recurring spell in the Final Fantasy Crystal Chronicles series. It is an upgrade of the Holy spell and generally inflicts a massive sum of Holy damage.
Appearances
Edit
Holyga is cast by piling Cura +1, Arise +1, and Cleara +1.
Holyga is cast by stacking two Raise and two Cure target rings.

This gallery is incomplete and requires Final Fantasy Crystal Chronicles: Ring of Fates added. You can help the Final Fantasy Wiki by uploading images.