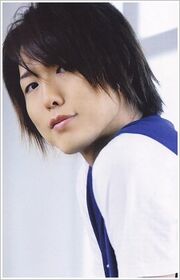 Hiroshi Kamiya (神谷 浩史, Kamiya Hiroshi?) born January 28, 1975 in Matsudo, Chiba, is a Japanese voice actor who works for Aoni Production. He voices Machina Kunagiri in Final Fantasy Type-0 and Final Fantasy Agito.
Background
Edit
He is most known for being voices for Tieria Erde in Gundam 00, Kouji Minamoto in Digimon Frontier, Takashi Natsume in Natsume Yuujinchou, Yuzuru Otonashi in Angel Beats and Levi in Attack on Titan. He also voiced Izaya Orihara in Durarara!!.
External links
Edit
Ad blocker interference detected!
Wikia is a free-to-use site that makes money from advertising. We have a modified experience for viewers using ad blockers

Wikia is not accessible if you've made further modifications. Remove the custom ad blocker rule(s) and the page will load as expected.