Hill Gigas (Final Fantasy VI)
Talk

1
13,962 pages on
this wiki
Final Fantasy VI Enemy
HadesGigas
ヒルギガース (Hiru Gigāsu)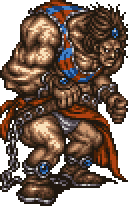 Statistics
Level
HP
MP
16
1,200
60
Battle Power
Magic Power
18
5
Defense
M. Defense
MBlock
125
115
0
Speed
Hit Rate
Evade
40
100
0
EXP
Gil
550
600
HadesGigas
ヒルギガース (Hiru Gigāsu)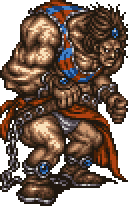 Statistics
Level
HP
MP
16
1,200
60
Battle Power
Magic Power
18
5
Defense
M. Defense
MBlock
125
115
0
Speed
Hit Rate
Evade
40
100
0
EXP
Gil
550
600
Hill Gigas
ヒルギガース (Hiru Gigāsu)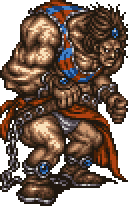 Statistics
Level
HP
MP
16
1,200
60
Attack
Magic
18
5
Defense
Magic Defense
Magic Evasion
125
115
0
Speed
Hit Rate
Evasion
40
100
0
EXP
Gil
550
600
"A giant roaming the town of Zozo. He puts all of his trength into a mean HeadButt. Sometimes he'll also send a Magnitude 8 quake at you."
—Final Fantasy VI Playstation One Bestiary entry
The Hill Gigas, also known as HadesGigas, is an enemy in Final Fantasy VI. It is one of the most dangerous enemies in Zozo, and has the most HP of any normal enemy in the game met to this point. Its special attack, Headbutt, deals several hundred damage to the target, and when defeated it has a 33% chance of casting Magnitude 8 as a final attack, which deals approximately 200 points of Earth-elemental damage to the entire party. There are two ways to get around this: having Celes cast Imp on it, forbidding it from using any magic, or having Gau use the Mu Rage, thus casting Snare and preventing it from using its final attack. Locke can steal a Gigas Glove from Hill Gigas, boosting the damage done by the wearer's physical attacks.
One of the safest ways to beat as well as steal from Hill Gigas is to utilize Edgar's Tools. When battling Gabbldegak, also found in Zozo, the player can use NoiseBlaster to confuse it, which prompts it to cast Vanish on the party, making them immune to physical blows. Afterward the player can fight Hill Gigas and have Edgar use NoiseBlaster on him. He only has enough MP to cast Magnitude 8 three times, which he will do fairly quickly against himself while confused. The player can take their time with stealing, because Hill Gigas cannot hit the party physically if they are protected with Vanish (and Magnitude 8 will be rendered somewhat useless with a confused Gigas).
AI Script
Edit
Attack Turns:
1st Turn: Attack (66%) or Headbutt (33%)
2nd Turn: Attack (66%) or Nothing (33%)
3rd Turn: Attack (66%) or Nothing (33%)
If killed:
Target: All Characters
Magnitude 8 (33%)
Other Appearances
Edit

The Hill Gigas will appear as an enemy under the name "Hilgigars".

Related Enemies
Edit