Hildibrand
Talk

0
13,964 pages on
this wiki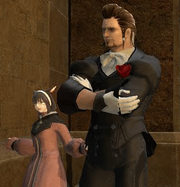 "My name is Hildibrand, agent of inquiry! Inspector Extraordinaire!"
—Hildibrand
Hildibrand is a minor non-playable character in Final Fantasy XIV. He is a male Highlander comic-relief character involved in quests related to player Inn rooms. He is often seen with his Miqo'te sidekick, Nashu Mhakaracca.
Appearance and Personality
Edit
Hildibrand sports a black and white coatee with a rose on his lapel, as well as a monocle. He likes to show off his muscular Highlander build with a flexing animation that is accompanied by cliché cartoon noises.
Hildibrand is a slapstick stooge. In some cases he will offer his services when the case has already been solved. When investigating an open case, he shows a complete lack of competence, such as making his presence known when trying to shadow a suspect.
While those who meet Hildibrand learn of his idiocy soon after, his sidekick Nashu - just as foolish - is in awe of his "talents" as an investigator. She has a fixation on pumpkins, and a very short attention span.
Creation and Development
Edit
Hildibrand was created for the quests required to unlock private Inn rooms, which were released March 8th, 2012 as part of patch 1.21. Due to positive fan reception, he has become a recurring character for Inn-related quests.
Twitter Pages have been made for both Hildibrand and Nashu Mhakaracca.
In one of Hildibrand's quests, it's revealed what happens to Nael van Darnus's gun-halberd, Bradamante, after his death. The weapon was found in Coerthas by a merchant, who sold it to a farmer in Ul'dah, but is no longer functioning properly. When the inspector tries to use it, he is sent flying to the skies.