Hildagarde Fabool
Talk

0
13,965 pages on
this wiki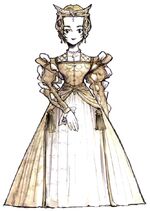 "Dreadfully sorry, my sugar cup, but I surrendered your favorite airship to a man named Kuja."
—Lady Hilda
Lady Hildagarde Fabool (ヒルダガルデ・ファブール, Hirudagarude Fabūru?) is a non-player character from Final Fantasy IX. She is married to Regent Cid Fabool IX, the ruler of Lindblum and is addressed as "Lady Hilda". She often affectionately calls her husband pet names such as "froggy-woggy," "sugar cup," and "darling."
Hilda is 27 at the start of the game.
Hilda leaves Cid following the revelation that he was having an affair with a waitress. In her anger, she transforms him into an Oglop and leaves, using his new hybrid airship, the Hilda Garde I, that can fly without mist. Kuja abducts her because he needs the steam-powered airship to reach the other continents. Zidane and his friends later rescue her, and Hilda is reunited with Cid and turns him back into a human. She also informs the party of Kuja's plan to return to Terra and tells the party the whereabouts of Ipsen's Castle.
At the end of the story, Cid and Hilda adopt Eiko as their own daughter.
Etymology
Edit
Her name is a reference to Princess Hilda from Final Fantasy II. Hilda's last name Fabool is a reference to the Final Fantasy IV kingdom of Fabul.