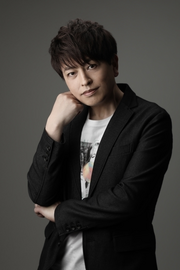 Hikaru Midorikawa (緑川 光, Midorikawa Hikaru?) born May 2, 1968, is a Japanese voice actor from Otawara, Tochigi. He is affiliated with Aoni Production. He voices Firion in the Dissidia Final Fantasy series, Nobutsuna Kamiizumi in Bravely Default and Bravely Second: End Layer, Clear in Final Fantasy Unlimited and as a Restrictor in Dirge of Cerberus -Final Fantasy VII-.
Background
Edit
He is most known for providing voices for Tamahome in Fushigi Yūgi, Akihiko Sanada in the Persona series, Kaede Rukawa in Slam Dunk, Sakamoto in Haven't You Heard? I'm Sakamoto, Marth in the Fire Emblem series, and Heero Yuy in Mobile Suit Gundam.
External links
Edit
Ad blocker interference detected!
Wikia is a free-to-use site that makes money from advertising. We have a modified experience for viewers using ad blockers

Wikia is not accessible if you've made further modifications. Remove the custom ad blocker rule(s) and the page will load as expected.