Hidon
Talk

13
16,000 pages on
this wiki
Hidon
ヒドゥン (Hidun?)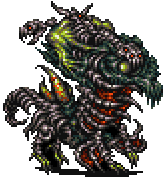 Statistics
Level
HP
MP
43
25,000
12,500
Bat.Pwr
Mag.Pwr
13
10
Def
Mag.Def
MBlock
110
160
0
Speed
Hit Rate
Evade
55
100
0
EXP
GP
0
0
| | |
| --- | --- |
| Location | Ebot's Rock |
| Type | Undead |
| Common Steal | Warp Stone |
| Rare Steal | Thornlet |
| Item Dropped | Warp Stone |
| Morph | Antidote, Green Cherry, Eye Drop, Soft |
| Morph Miss Rate | 100% |
| Attack | Partisan |
| Special Attack | Hit (Level 1 = Attack x 1.5) |
| Other Abilities | Bio, Poison, Virite, Leech, GrandTrain, ChokeSmoke |
| Rage | None |
| Sketch | Battle, Hit |
| Control | Battle, Hit |
| Other information | Harder to run from. The party cannot escape. Undead; Can't Control; Harder to run from; The party cannot escape. |
Hidon
ヒドゥン (Hidun?)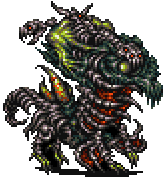 Statistics
Level
HP
MP
43
25,000
12,500
Att
M-Att
13
10
Def
M-Def
M-Evd
110
160
0
Speed
Hit Rate
Evade
55
100
0
EXP
GP
0
0
Hidon
ヒドゥン (Hidun?)
Statistics
Level
HP
MP
43
25,000
12,500
Attack
Magic
13
10
Defense
Magic Defense
Magic Evasion
110
160
0
Speed
Hit Rate
Evasion
55
100
0
EXP
Gil
0
0
| | |
| --- | --- |
| Location | Ebot's Rock |
| Type | Undead |
| Common Steal | Teleport Stone |
| Rare Steal | Thornlet |
| Item Dropped | Teleport Stone |
| Morph | Antidote, Green Cherry, Eyedrop, Gold Needle |
| Morph Miss Rate | 100% |
| Attack | Partisan |
| Special Attack | Hit (Level 1 = Attack x 1.5) |
| Other Abilities | Bio, Poison, Venomist, Leech, Grand Delta, Crypt Dust |
| Rage | None |
| Sketch | Attack, Hit |
| Control | Attack, Hit |
| Other information | Harder to run from. The party cannot escape. Undead; Can't Control; Harder to run from; The party cannot escape. |
Hidon
ヒドゥン (Hidun?)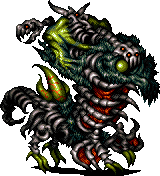 Statistics
Level
HP
MP
43
25,000
12,500
Attack
Magic
13
10
Defense
Magic Defense
Magic Evasion
110
160
0
Speed
Hit Rate
Evasion
55
100
0
EXP
Gil
0
0
| | |
| --- | --- |
| Location | Ebot's Rock |
| Type | Undead |
| Common Steal | Teleport Stone |
| Rare Steal | Thornlet |
| Item Dropped | Teleport Stone |
| Morph | Antidote, Green Cherry, Eyedrop, Gold Needle |
| Morph Miss Rate | 100% |
| Attack | Partisan |
| Special Attack | Hit (Level 1 = Attack x 1.5) |
| Other Abilities | Bio, Poison, Venomist, Leech, Grand Delta, Crypt Dust |
| Rage | None |
| Sketch | Attack, Hit |
| Control | Attack, Hit |
| Other information | Harder to run from. The party cannot escape. Undead; Can't Control; Harder to run from; The party cannot escape. |
"Uses GrandTrain attack when its Elbonites are killed. Hold Strago back until he's learned GrandTrain. Use Pearl and Fire 3 for a quick victory."
—Final Fantasy VI PlayStation Bestiary entry

Hidon is a boss in Final Fantasy VI. It is a monster that was hunted by Strago and Gungho in their youth, but they were never able to defeat it. Hidon is the only enemy in the game besides Omega Weapon in the Advance release to use Grand Delta, Strago's ultimate Lore. Hidon respawns when defeated and can be fought multiple times if the player misses acquiring Grand Delta the first battle. The player must keep talking to Gungho and eventually he will say that Hidon has reappeared.
Hidon is flanked by four Erebus that use various status attacks on the party, and they each have different weaknesses and strengths. If one in the party is KOed during this battle, Hidon will use Crypt Dust on the KOed party member, turning it into a Zombie, so Ribbons and Amulets are useful. It can also cast Bio, so Star Pendants and Fairy Rings are useful as well. Once all the Erebus are defeated, Hidon uses Grand Delta to deal powerful non-elemental damage to the party.
Like other undead monsters, Hidon can be defeated simply by using a Phoenix Down or any other revival spell on it. He can also be instantly killed with either a Revivify, X-Potion, or Elixir.
Once Strago learns Grand Delta, Hidon can be killed easily. The fastest way to kill the four Erebus is to cast Ultima, which will kill all of them instantly.
A Thornlet, one of the game's strongest helmets, can be rarely stolen from Hidon, which can then be bet in the Coliseum for Mirage Vests.
Etymology
Edit
According to Strago, Hidon's name comes from the word "Hidden," an allusion to how difficult it is to find him.
AI Script
Edit
Attack Turns:
1st Turn: Attack (66%) or Bio (33%)
If attacked by anything: Poison (33%)
If Hidon is by itself:
1st Turn: Venomist (33%) or Attack (33%) or Leech (33%)
2nd Turn: Attack (66%) or Leech (33%)
3rd Turn: Venomist (33%) or Attack (33%) or Leech (33%)
If all four Erebus are dead:
If Timer >= 80:

Revive all four Erebus
Unset Var36
If Var36 is not set:
If Hidon is by itself:

Monster flashes
Grand Delta (100%)
Set Var36
If Character #1 has KO status and does NOT have Zombie status:
Target: Character #1
Crypt Dust (100%)
If Character #2 has KO status and does NOT have Zombie status:
Target: Character #2
Crypt Dust (100%)
If Character #3 has KO status and does NOT have Zombie status:
Target: Character #3
Crypt Dust (100%)
If Character #4 has KO status and does NOT have Zombie status:
Target: Character #4
Crypt Dust (100%)
Related Enemies
Edit