Ad blocker interference detected!
Wikia is a free-to-use site that makes money from advertising. We have a modified experience for viewers using ad blockers

Wikia is not accessible if you've made further modifications. Remove the custom ad blocker rule(s) and the page will load as expected.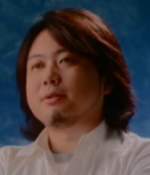 Hideo Minaba (皆葉英夫, Minaba Hideo?) is a video game art director. He began work with Squaresoft in 1991. His first major role was as a field graphics designer on Final Fantasy V (1992). He was the art director of Final Fantasy VI (1994), where he was responsible for the world's architecture and interiors.[1] He was later placed in charge of artistic supervision of Final Fantasy Tactics (1997). After that, he served as art director of both Final Fantasy IX (2000) and Final Fantasy XII (2006).
Minaba left Square Enix in 2004, the middle of Final Fantasy XII's development, to form Designation, a freelance art company. He has since continued to work on the Final Fantasy series as a freelancer, working on art design for Final Fantasy XIV: A Realm Reborn (2013) and Final Fantasy XIV: Heavensward (2015).
Works within the series
Edit
Game
Release
Work
Final Fantasy IV
1991
Debugger (uncredited)
Final Fantasy Mystic Quest
1993
Special Thanks
Final Fantasy V
1992
Field Graphics (with Tetsuya Takahashi)
Final Fantasy VI
1994
Graphic Director (with Tetsuya Takahashi, Kazuko Shibuya, and Tetsuya Nomura), Art Director, Background Art Design
Final Fantasy Tactics
1997
Art Supervisor, Battle Maps Designer
Final Fantasy IX
2000
Art Director
Character Design: Zidane, Garnet, Vivi, Kuja, and Beatrix
Final Fantasy Tactics Advance
2003
Design Work Director
Final Fantasy XII
2006
Art Director (with Isamu Kamikokuryo)
Airship Design: Strahl and Archadian Imperial Fleets
Final Fantasy Tactics: The War of the Lions
2007
Art Supervisor, Battle Maps Designer
Final Fantasy XII International Zodiac Job System
2007
Art Director (with Isamu Kamikokuryo)
Airship Design: Strahl and Archadian Imperial Fleets
Box Art Designer
Final Fantasy XIV 1.0
2010
Special Thanks
Dissidia 012 Final Fantasy
2011
Costume Design: Zidane's Marcus's Cloak, Kuja's Treno Nobleman
Final Fantasy XIII-2
2011
Character Design: Paddra Nsu-Yeul and Alyssa Zaidelle
Costume Design: Hope Estheim
Bravely Default
2012
Background Art Design
Final Fantasy XIV: A Realm Reborn
2013
Art Design
Lightning Returns: Final Fantasy XIII
2013
Map Designer
Bravely Second: End Layer
2015
Background Art Design
Final Fantasy XIV: Heavensward
2015
Art Design
External links
Edit
References
Edit