Ad blocker interference detected!
Wikia is a free-to-use site that makes money from advertising. We have a modified experience for viewers using ad blockers

Wikia is not accessible if you've made further modifications. Remove the custom ad blocker rule(s) and the page will load as expected.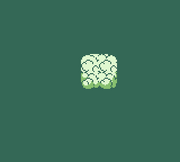 Hidden Town (隠れ里, Kakurezato?, lit. Isolated Village) is a location in The Final Fantasy Legend.
The party finds the town hidden within the clouds, and inside the town the party learns that if the twin sisters are brought together they will know where the sphere is, and this is why Byak-Ko is after Jeanne. One of the citizens mention that the white sphere is enshrined in a Sacred Palace somewhere in the clouds.
Equipment

Edit

| Name | Cost |
| --- | --- |
| Silver | 10,712 GP |
| Saber | 2060 GP |
| L-Saber | 10480 GP |
| P-Knife | 3800 GP |
| Vampic | 10,000 GP |
| Rune | 9,800 GP |
| LongBow | 8,000 GP |
| Bazooka | 4,000 GP |
| Flame | 5,500 GP |
| Giant | 5,500 GP |

| Name | Cost |
| --- | --- |
| Cure | 1,000 GP |
| Fire | 500 GP |
| Ice | 500 GP |
| Elec | 500 GP |
| Fog | 500 GP |
| Sleep | 500 GP |
| Stone | 5,000 GP |
| Death | 5,000 GP |
| Flare | 50,000 GP |
| Book | 500 GP |