Final Fantasy X-2 Enemy
Hexapod
ヘキサフィート (Hekisafīto)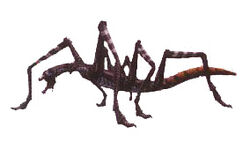 Vermin
Statistics
Level
HP
MP
47
2,805
980
Strength
Magic
Defense
24
97
29
M. Defense
Agility
Accuracy
100
75
1
Evasion
Luck
30
0
EXP
AP
Gil
220
1
80
Hexapod
ヘキサフィート (Hekisafīto)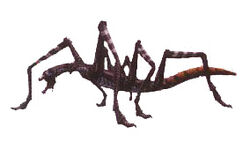 Vermin
Statistics
Level
HP
MP
54
11,220
980
Strength
Magic
Defense
26
97
29
M. Defense
Agility
Accuracy
100
83
1
Evasion
Luck
38
0
EXP
AP
Gil
280
2
100
Normal: "A worker of the Mi'ihen Highroad fiend colony. Although a fiend, it lives within a complex social hierarchy. It is known to explode when near death. Careful!"
Oversoul: "A worker of the Mi'ihen Highroad fiend colony. Although a fiend, it lives within a complex social hierarchy. Its Oversouled form sometimes unleashes a chain of attacks."
— Scan
The Hexapod is an enemy in Final Fantasy X-2. When not in Oversoul, they are not much of a threat, but in Oversoul, they become much more dangerous since they have access to Quadruple Attack and have gained a large amount of HP. It is best to use strong, hard-hitting attacks such as Black Sky, Excalibur, Annihilator, and the like to bring them down when in Oversoul. They usually appear in groups.
L-Bombs from Hexapods (all drops and Bribes) are one of only two sources of the main ingredients for the Hazardous Shell Mix effect, the other being the considerably rarer Gold Hourglass from Oversouled Deep Haizhe.
Etymology
Edit
Hexapod is Greek for six-footed. It is the name of arthropods in the subphylum Hexapoda, which is divided into two classes. The two classes are Entognatha and Insecta.
Related enemies
Edit
Ad blocker interference detected!
Wikia is a free-to-use site that makes money from advertising. We have a modified experience for viewers using ad blockers

Wikia is not accessible if you've made further modifications. Remove the custom ad blocker rule(s) and the page will load as expected.