Hexadragon
メルトドラゴン (

Merutodoragon

?)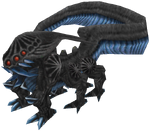 Statistics
Level
HP

2.5(Lv)² + 50(Lv) + 10000

Level
HP

2.5(Lv)² + 50(Lv) + 10000

1
10,052
19
11,852
STR

([8(Lv)] - [(Lv)² / 360] + 200) / 4

MAG

([8(Lv)] + [(Lv) / 20] - [(Lv)² / 300] + 180) / 4

STR

([8(Lv)] - [(Lv)² / 360] + 200) / 4

MAG

([8(Lv)] + [(Lv) / 20] - [(Lv)² / 300] + 180) / 4

52
47
87
82
VIT

((Lv) / 14) - [(Lv) / 2] + (Lv) + 70

SPR

((Lv) / 30) - [(Lv) / 3] + (Lv) + 50

VIT

((Lv) / 14) - [(Lv) / 2] + (Lv) + 70

SPR

((Lv) / 30) - [(Lv) / 3] + (Lv) + 50

71
51
81
63
SPD

((Lv) / 6) - [(Lv) / 12] + 10

EVA

((Lv) / 10) - [(Lv) / 20]

SPD

((Lv) / 6) - [(Lv) / 12] + 10

EVA

((Lv) / 10) - [(Lv) / 20]

10
0
12
1
EXP

30(Lv)² + 210

AP
EXP

30(Lv)² + 210

AP
240
8
780
8
Elemental affinities
-100%

Absorbs

100%
100%
200%
100%
100%
-100%

Absorbs

100%
Damage
Restorative
Ground
Gravity
100%
Absorb
Damage
Damage
Hexadragon
メルトドラゴン (

Merutodoragon

?)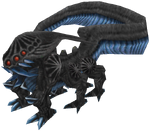 Statistics
Level
HP

2.5(Lv)² + 50(Lv) + 10000

Level
HP

2.5(Lv)² + 50(Lv) + 10000

20
12,000
29
13,552
STR

([8(Lv)] - [(Lv)² / 360] + 200) / 4

MAG

([8(Lv)] + [(Lv) / 20] - [(Lv)² / 300] + 180) / 4

STR

([8(Lv)] - [(Lv)² / 360] + 200) / 4

MAG

([8(Lv)] + [(Lv) / 20] - [(Lv)² / 300] + 180) / 4

89
85
107
102
VIT

((Lv) / 14) - [(Lv) / 2] + (Lv) + 70

SPR

((Lv) / 30) - [(Lv) / 3] + (Lv) + 50

VIT

((Lv) / 14) - [(Lv) / 2] + (Lv) + 70

SPR

((Lv) / 30) - [(Lv) / 3] + (Lv) + 50

81
64
87
70
SPD

((Lv) / 6) - [(Lv) / 12] + 10

EVA

((Lv) / 10) - [(Lv) / 20]

SPD

((Lv) / 6) - [(Lv) / 12] + 10

EVA

((Lv) / 10) - [(Lv) / 20]

12
1
12
1
EXP

30(Lv)² + 210

AP
EXP

30(Lv)² + 210

AP
810
8
1,080
8
Elemental affinities
-100%

Absorbs

100%
100%
200%
100%
100%
-100%

Absorbs

100%
Damage
Restorative
Ground
Gravity
100%
Absorb
Damage
Damage
Hexadragon
メルトドラゴン (

Merutodoragon

?)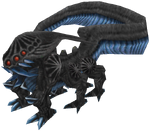 Statistics
Level
HP

2.5(Lv)² + 50(Lv) + 10000

Level
HP

2.5(Lv)² + 50(Lv) + 10000

30
13,750
100
40,000
STR

([8(Lv)] - [(Lv)² / 360] + 200) / 4

MAG

([8(Lv)] + [(Lv) / 20] - [(Lv)² / 300] + 180) / 4

STR

([8(Lv)] - [(Lv)² / 360] + 200) / 4

MAG

([8(Lv)] + [(Lv) / 20] - [(Lv)² / 300] + 180) / 4

109
104
243
238
VIT

((Lv) / 14) - [(Lv) / 2] + (Lv) + 70

SPR

((Lv) / 30) - [(Lv) / 3] + (Lv) + 50

VIT

((Lv) / 14) - [(Lv) / 2] + (Lv) + 70

SPR

((Lv) / 30) - [(Lv) / 3] + (Lv) + 50

87
71
127
120
SPD

((Lv) / 6) - [(Lv) / 12] + 10

EVA

((Lv) / 10) - [(Lv) / 20]

SPD

((Lv) / 6) - [(Lv) / 12] + 10

EVA

((Lv) / 10) - [(Lv) / 20]

13
2
18
5
EXP

30(Lv)² + 210

AP
EXP

30(Lv)² + 210

AP
1,110
8
3,210
8
Elemental affinities
-100%

Absorbs

100%
100%
200%
100%
100%
-100%

Absorbs

100%
Damage
Restorative
Ground
Gravity
100%
Absorb
Damage
Damage
| Lv | HP | STR | MAG | VIT | SPR | SPD | EVA | EXP |
| --- | --- | --- | --- | --- | --- | --- | --- | --- |
| 1 | 10052 | 52 | 47 | 71 | 51 | 10 | 0 | 240 |
| 2 | 10110 | 54 | 49 | 71 | 52 | 10 | 0 | 270 |
| 3 | 10172 | 56 | 51 | 72 | 52 | 10 | 0 | 300 |
| 4 | 10240 | 58 | 53 | 72 | 53 | 10 | 0 | 330 |
| 5 | 10312 | 60 | 55 | 73 | 54 | 10 | 0 | 360 |
| 6 | 10390 | 62 | 57 | 73 | 54 | 11 | 0 | 390 |
| 7 | 10472 | 64 | 59 | 74 | 55 | 11 | 0 | 420 |
| 8 | 10560 | 66 | 61 | 74 | 56 | 11 | 0 | 450 |
| 9 | 10652 | 68 | 63 | 75 | 56 | 11 | 0 | 480 |
| 10 | 10750 | 70 | 65 | 75 | 57 | 11 | 1 | 510 |
| Lv | HP | STR | MAG | VIT | SPR | SPD | EVA | EXP |
| --- | --- | --- | --- | --- | --- | --- | --- | --- |
| 11 | 10852 | 72 | 67 | 76 | 58 | 11 | 1 | 540 |
| 12 | 10960 | 74 | 69 | 76 | 58 | 11 | 1 | 570 |
| 13 | 11072 | 76 | 71 | 77 | 59 | 11 | 1 | 600 |
| 14 | 11190 | 78 | 73 | 78 | 60 | 11 | 1 | 630 |
| 15 | 11312 | 80 | 75 | 79 | 60 | 11 | 1 | 660 |
| 16 | 11440 | 82 | 77 | 79 | 61 | 11 | 1 | 690 |
| 17 | 11572 | 84 | 79 | 80 | 62 | 11 | 1 | 720 |
| 18 | 11710 | 86 | 80 | 80 | 62 | 12 | 1 | 750 |
| 19 | 11852 | 87 | 82 | 81 | 63 | 12 | 1 | 780 |
| 20 | 12000 | 89 | 85 | 81 | 64 | 12 | 1 | 810 |
| Lv | HP | STR | MAG | VIT | SPR | SPD | EVA | EXP |
| --- | --- | --- | --- | --- | --- | --- | --- | --- |
| 21 | 12152 | 91 | 87 | 82 | 64 | 12 | 1 | 840 |
| 22 | 12310 | 93 | 89 | 82 | 65 | 12 | 1 | 870 |
| 23 | 12472 | 95 | 91 | 83 | 66 | 12 | 1 | 900 |
| 24 | 12640 | 97 | 93 | 83 | 66 | 12 | 1 | 930 |
| 25 | 12812 | 99 | 94 | 84 | 67 | 12 | 1 | 960 |
| 26 | 12990 | 101 | 96 | 84 | 68 | 12 | 1 | 990 |
| 27 | 13172 | 103 | 98 | 85 | 68 | 12 | 1 | 1020 |
| 28 | 13360 | 105 | 100 | 86 | 69 | 12 | 1 | 1050 |
| 29 | 13552 | 107 | 102 | 87 | 70 | 12 | 1 | 1080 |
| 30 | 13750 | 109 | 104 | 87 | 71 | 13 | 2 | 1110 |
| Lv | HP | STR | MAG | VIT | SPR | SPD | EVA | EXP |
| --- | --- | --- | --- | --- | --- | --- | --- | --- |
| 31 | 13952 | 111 | 106 | 88 | 72 | 13 | 2 | 1140 |
| 32 | 14160 | 113 | 108 | 88 | 73 | 13 | 2 | 1170 |
| 33 | 14372 | 115 | 110 | 89 | 73 | 13 | 2 | 1200 |
| 34 | 14590 | 117 | 112 | 89 | 74 | 13 | 2 | 1230 |
| 35 | 14812 | 119 | 114 | 90 | 75 | 13 | 2 | 1260 |
| 36 | 15040 | 121 | 116 | 90 | 75 | 13 | 2 | 1290 |
| 37 | 15272 | 123 | 118 | 91 | 76 | 13 | 2 | 1320 |
| 38 | 15510 | 125 | 120 | 91 | 77 | 13 | 2 | 1350 |
| 39 | 15752 | 127 | 122 | 92 | 77 | 13 | 2 | 1380 |
| 40 | 16000 | 129 | 124 | 92 | 78 | 13 | 2 | 1410 |
| Lv | HP | STR | MAG | VIT | SPR | SPD | EVA | EXP |
| --- | --- | --- | --- | --- | --- | --- | --- | --- |
| 41 | 16252 | 131 | 126 | 93 | 79 | 13 | 2 | 1440 |
| 42 | 16510 | 133 | 128 | 94 | 79 | 14 | 2 | 1470 |
| 43 | 16772 | 134 | 130 | 95 | 80 | 14 | 2 | 1500 |
| 44 | 17040 | 136 | 132 | 95 | 81 | 14 | 2 | 1530 |
| 45 | 17312 | 138 | 134 | 96 | 81 | 14 | 2 | 1560 |
| 46 | 17590 | 140 | 135 | 96 | 82 | 14 | 2 | 1590 |
| 47 | 17872 | 142 | 137 | 97 | 83 | 14 | 2 | 1620 |
| 48 | 18160 | 144 | 139 | 97 | 83 | 14 | 2 | 1650 |
| 49 | 18452 | 146 | 141 | 98 | 84 | 14 | 2 | 1680 |
| 50 | 18750 | 148 | 143 | 98 | 85 | 14 | 3 | 1710 |
| Lv | HP | STR | MAG | VIT | SPR | SPD | EVA | EXP |
| --- | --- | --- | --- | --- | --- | --- | --- | --- |
| 51 | 19052 | 150 | 145 | 99 | 85 | 14 | 3 | 1740 |
| 52 | 19360 | 152 | 147 | 99 | 86 | 14 | 3 | 1770 |
| 53 | 19672 | 154 | 149 | 100 | 87 | 14 | 3 | 1800 |
| 54 | 19990 | 156 | 151 | 100 | 87 | 15 | 3 | 1830 |
| 55 | 20312 | 158 | 153 | 101 | 88 | 15 | 3 | 1860 |
| 56 | 20640 | 160 | 155 | 102 | 89 | 15 | 3 | 1890 |
| 57 | 20972 | 161 | 157 | 103 | 89 | 15 | 3 | 1920 |
| 58 | 21310 | 163 | 158 | 103 | 90 | 15 | 3 | 1950 |
| 59 | 21652 | 165 | 160 | 104 | 91 | 15 | 3 | 1980 |
| 60 | 22000 | 167 | 162 | 104 | 92 | 15 | 3 | 2010 |
| Lv | HP | STR | MAG | VIT | SPR | SPD | EVA | EXP |
| --- | --- | --- | --- | --- | --- | --- | --- | --- |
| 61 | 22352 | 169 | 164 | 105 | 93 | 15 | 3 | 2040 |
| 62 | 22710 | 171 | 166 | 105 | 94 | 15 | 3 | 2070 |
| 63 | 23072 | 173 | 168 | 106 | 94 | 15 | 3 | 2100 |
| 64 | 23440 | 175 | 170 | 106 | 95 | 15 | 3 | 2130 |
| 65 | 23812 | 177 | 172 | 107 | 96 | 15 | 3 | 2160 |
| 66 | 24190 | 179 | 174 | 107 | 96 | 16 | 3 | 2190 |
| 67 | 24572 | 181 | 176 | 108 | 97 | 16 | 3 | 2220 |
| 68 | 24960 | 183 | 178 | 108 | 98 | 16 | 3 | 2250 |
| 69 | 25352 | 184 | 180 | 109 | 98 | 16 | 3 | 2280 |
| 70 | 25750 | 186 | 181 | 110 | 99 | 16 | 4 | 2310 |
| Lv | HP | STR | MAG | VIT | SPR | SPD | EVA | EXP |
| --- | --- | --- | --- | --- | --- | --- | --- | --- |
| 71 | 26152 | 188 | 183 | 111 | 100 | 16 | 4 | 2340 |
| 72 | 26560 | 190 | 185 | 111 | 100 | 16 | 4 | 2370 |
| 73 | 26972 | 192 | 187 | 112 | 101 | 16 | 4 | 2400 |
| 74 | 27390 | 194 | 189 | 112 | 102 | 16 | 4 | 2430 |
| 75 | 27812 | 196 | 191 | 113 | 102 | 16 | 4 | 2460 |
| 76 | 28240 | 198 | 193 | 113 | 103 | 16 | 4 | 2490 |
| 77 | 28672 | 200 | 195 | 114 | 104 | 16 | 4 | 2520 |
| 78 | 29110 | 202 | 196 | 114 | 104 | 17 | 4 | 2550 |
| 79 | 29552 | 203 | 198 | 115 | 105 | 17 | 4 | 2580 |
| 80 | 30000 | 205 | 200 | 115 | 106 | 17 | 4 | 2610 |
| Lv | HP | STR | MAG | VIT | SPR | SPD | EVA | EXP |
| --- | --- | --- | --- | --- | --- | --- | --- | --- |
| 81 | 30452 | 207 | 202 | 116 | 106 | 17 | 4 | 2640 |
| 82 | 30910 | 209 | 204 | 116 | 107 | 17 | 4 | 2670 |
| 83 | 31372 | 211 | 206 | 117 | 108 | 17 | 4 | 2700 |
| 84 | 31840 | 213 | 208 | 118 | 108 | 17 | 4 | 2730 |
| 85 | 32312 | 215 | 210 | 119 | 109 | 17 | 4 | 2760 |
| 86 | 32790 | 217 | 212 | 119 | 110 | 17 | 4 | 2790 |
| 87 | 33272 | 218 | 213 | 120 | 110 | 17 | 4 | 2820 |
| 88 | 33760 | 220 | 215 | 120 | 111 | 17 | 4 | 2850 |
| 89 | 34252 | 222 | 217 | 121 | 112 | 17 | 4 | 2880 |
| 90 | 34750 | 224 | 219 | 121 | 113 | 18 | 5 | 2910 |
| Lv | HP | STR | MAG | VIT | SPR | SPD | EVA | EXP |
| --- | --- | --- | --- | --- | --- | --- | --- | --- |
| 91 | 35252 | 226 | 221 | 122 | 114 | 18 | 5 | 2940 |
| 92 | 35760 | 228 | 223 | 122 | 115 | 18 | 5 | 2970 |
| 93 | 36272 | 230 | 225 | 123 | 115 | 18 | 5 | 3000 |
| 94 | 36790 | 232 | 226 | 123 | 116 | 18 | 5 | 3030 |
| 95 | 37312 | 233 | 228 | 124 | 117 | 18 | 5 | 3060 |
| 96 | 37840 | 235 | 230 | 124 | 117 | 18 | 5 | 3090 |
| 97 | 38372 | 237 | 232 | 125 | 118 | 18 | 5 | 3120 |
| 98 | 38910 | 239 | 234 | 126 | 119 | 18 | 5 | 3150 |
| 99 | 39452 | 241 | 236 | 127 | 119 | 18 | 5 | 3180 |
| 100 | 40000 | 243 | 238 | 127 | 120 | 18 | 5 | 3210 |
Hexadragon is an enemy in Final Fantasy VIII, a peculiar six-legged dragon with six eyes. The Hexadragon has an elemental defense towards Fire.
Hexadragon Card

Element
Fire
Refine
3 refine into 1 Red Fang
Drop
Hexadragon
Card
Hexadragon
Level 4 (Monster Card)
Win
N/A
Etymology
Edit
[view · edit · purge]A dragon is a legendary creature, typically with serpentine or reptilian traits, that features in the myths of many cultures. "Hexa" is a reference to his six eyes.
Ad blocker interference detected!
Wikia is a free-to-use site that makes money from advertising. We have a modified experience for viewers using ad blockers

Wikia is not accessible if you've made further modifications. Remove the custom ad blocker rule(s) and the page will load as expected.