Hein (Final Fantasy III)
Talk

5
13,960 pages on
this wiki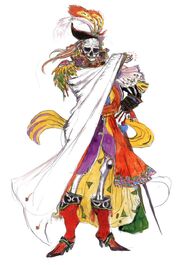 "Ahh... the power of darkness is a thing of beauty, a black tapestry of chaos! A tapestry on which I shall paint an all-encompassing nocturne!"
—As he attacks the Warriors of Light.
Hein (まどうし ハイン, Madoushi Hain?, lit. "Sorcerer Hein"), also known as Hyne, is a minor antagonist in Final Fantasy III.
Hein had gained the trust of the king of Castle Argus, which governed a large region of the Floating Continent, and became the castle's wizard. In reality though, he was one of several monsters sent by Xande to cause chaos on the Floating Continent, and his true form was that of a skeletal being. Eventually, the mage cast a spell over the Elder Tree, causing it to float over the desert south of Castle Argus, and christened it Castle Hein.
Hein then bewitched all of the castle's inhabitants and imprisoned them in his new fortress, where he terrorized the neighboring town of Tokkul. Luneth and his friends were captured during one raid on Tokkul and were brought to the living castle. They managed to overcome the guards and monsters within the castle and ascended the decaying tree to face Hein, who showed no remorse for his actions. The Warriors of Light defeated the crazed mage, and the Elder Tree returned to its true form. Before replanting itself in the forest from whence it came, the tree restored the royal family and guards of Argus to their rightful place at the throne.

Main article: Hein (Boss)
Hein is fought as a boss.
Other Appearances
Edit
Hein is set to appear in Final Fantasy XIV: A Realm Reborn as a prominent character for the Crystal Tower content. Though he wears the same colors as Hein, he has been named Amon by the developers, after his pallet swap.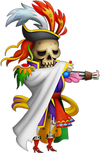 Hein appears as an enemy in Theatrhythm Final Fantasy.


"A good wizard gone bad, and originator of the much-loathed Barrier Shift spell."
—In-game description.
Hein appears as a sub-boss in the Eureka Forest and uses Thundaga as his ability. Upon defeat he will drop the Artemis Bow, 900 EXP, and 5,130 gil.