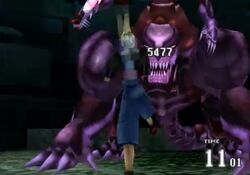 Heel Drop (かかと落とし, Kakato Otoshi?), also known as Heel Kick, is a recurring ability in the Final Fantasy series. It is a Limit Break used primarily by Zell Dincht.
Appearances
Edit
VIII Limit Break ability is a Limit Break for Zell, used by inputting


whenever the command appears, generally after Booya or Punch Rush, but sometimes after Mach Kick. It deals non-elemental physical damage to one target with a power of 20.