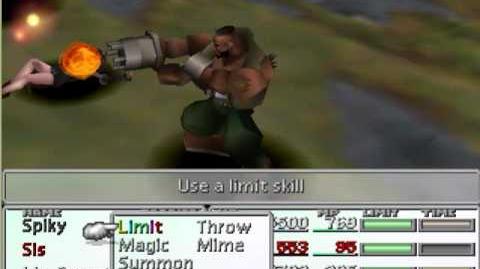 Heavy Shot (ヘヴィショット, Hevi Shotto?), also known as Big Shot (ヘビーショット, Hebī Shotto? or ビッグショット, Biggu Shotto?), is a recurring ability in the series.
Appearances
Edit
VII Big Shot is the initial Limit Break for Barret, which deals non-elemental damage to one enemy equal to 31⁄4 times normal damage. Using Big Shot 9 times will unlock Mindblow.
Barret uses Big Shot in the trailer unveiled 5th December 2015 at the PlayStation Experience.
FFVIIGB Barret can use Heavy Shot when assisting Cloud.
Heavy Shot is an Archer and Bard weaponskill known by default with the damage potency of 150. It is performed instantly, has basic recast time of 2.50s, TP cost of 60, and range of 25y. When the player acquires Heavier Shot trait when their character's Archer job achieves level 8, using Heavy Shot will result in adding 20% probability chance of inflicting critical damage with the next use of Straight Shot.
Heavensward (3.0) introduced Big Shot, a level 1 Limit Break for ranged DPS classes.