Hajime Tabata
18,488 pages on
this wiki
Talk

0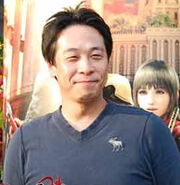 Hajime Tabata is a video game director working for Square Enix. He mostly works on portable titles, such as Crisis Core -Final Fantasy VII-, Final Fantasy Type-0 and The 3rd Birthday. He is the director of the upcoming Final Fantasy XV.
Biography
Edit
Since early on in his career, his acquaintances from Square (before the Enix merger) invited him to join the company. However, the timing for these things never seemed to work out so he didn't have a chance to transfer. He then switched to become a freelancer and was working with a group of his friends to make a mobile game rather than a console game. That's when his acquaintances invited him again.
After joining Square Enix, Tetsuya Nomura had indirectly made a request for him to create a mobile game starring the Turks from Final Fantasy VII. Thus, Before Crisis -Final Fantasy VII- was created. After the game's release, Yoshinori Kitase moved him to the console division. With the launch of the PlayStation Portable, Kitase had instructed him to develop a Final Fantasy title on that platform and left him in charge of the content. He then discussed it with Tetsuya Nomura and they decided to portray Zack's story from the same Final Fantasy VII universe. That game was named Crisis Core -Final Fantasy VII-.
Tabata's next project was Final Fantasy Type-0 which the world view has a consistent theme of "a real war within a fantasy world". He worked on the title as a documentary that records the account within a fictional world. One of the countries is a land of magic, so the concept of a magical academy was created. He wanted to make Final Fantasy Type-0 a fictional documentary so the development team built various elements on that template.
He is currently the director of Final Fantasy XV. In the game's reveal at E3 2013, it was announced the he'd be co-directing the game together with Tetsuya Nomura. However, come Tokyo Game Show 2014, it was announced that Tabata would be the full solo director of the game, with Nomura working on other projects.
On September 11th, Square Enix announced Final Fantasy Agito, a continuation to the story of Final Fantasy Type-0 with Tabata as producer. He wanted to write a story that shows another take on the heroes of the previous game. Even though the game is free to play and features microtransactions, Tabata reassured in an interview that Agito is still enjoyable "even if you don't throw money at it".
Game design
Edit
Despite having developed many games on portable platforms, Tabata has got an affinity with more traditional console fare. He has said in an interview that in Japan more and more gamers lean towards games that can be played casually, but he personally enjoys and grew up with core-centric standalone games, and wants to preserve the integrity of them, and leave a legacy of these types of games.[1]
There's a physicality to Tabata's games, as seen in the more grounded fantasy of Final Fantasy Type-0 and Final Fantasy XV. "When we were making the transition, we sat down and I discussed with Nomura the game," he says. "I felt that I wanted to shift it more to be more realistic. For example, when you're battling a really strong boss like a behemoth, if you go at it from just the front you're going to get hit with his counter-attacks. You have to think about baiting it to attack forward, but then break its stance and attack it from the side. I wanted to make it so you're fighting a real animal, but with easy-to-manipulate controls as well as dramatic effects. My basis was to keep it grounded in reality."[1]
Tabata's personal taste leans towards western games and open worlds.[1]
He thinks one of the strengths of Japanese game development is a strong ethos of making a game right from start to finish, and getting everything solidly down and having a good plan, not letting any single element of the game slip. He describes being the same way, trying at every level to push the game to be the best it can be and keep striving to improve it.[2]
Works in the Series
Edit
In-Game Appearances
Edit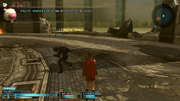 Hajime Tabata appears as a Support Personnel of Akademeia. He shares the character model with Nine, with the code name is "Director".

References
Edit