Hajime Tabata
Talk

0
15,958 pages on
this wiki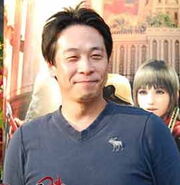 Hajime Tabata
is a video game director working for
Square Enix
. He mostly works on portable titles, such as
Crisis Core -Final Fantasy VII-
,
Final Fantasy Type-0
and
The 3rd Birthday
. It has been recently announced that he will be the director of the upcoming
Final Fantasy XV
.
Biography
Edit
Since early on in his career, his acquaintances from Square (before the Enix merger) invited him to join the company. However, the timing for these things never seemed to work out so he didn't have a chance to transfer. He then switched to become a freelancer and was working with a group of his friends to make a mobile game rather than a console game. That's when his acquaintances invited him again.
After joining Square Enix, Tetsuya Nomura had indirectly made a request for him to create a mobile game starring the Turks from Final Fantasy VII. Thus, Before Crisis -Final Fantasy VII- was created. After the game's release, Yoshinori Kitase moved him to the console division. With the launch of the PlayStation Portable, Kitase had instructed him to develop a Final Fantasy title on that platform and left him in charge of the content. He then discussed it with Tetsuya Nomura and they decided to portray Zack's story from the same Final Fantasy VII universe. That game was named Crisis Core -Final Fantasy VII-.
Tabata's next project was Final Fantasy Type-0 which the world view has a consistent theme of "a real war within a fantasy world". He worked on the title as a documentary that records the account within a fictional world. One of the countries is a land of magic, so the concept of a magical academy was created. He wanted to make Final Fantasy Type-0 a fictional documentary so the development team built various elements on that template.
He will be the director of Final Fantasy XV. In the game's reveal at E3 2013, it was announced the he'd be co-directing the game together with Tetsuya Nomura. However, come Tokyo Game Show 2014, it was announced that Tabata would be the full solo director of the game, with Nomura working on other projects.
On September 11th, Square Enix announced Final Fantasy Agito, a continuation to the story of Final Fantasy Type-0 with Tabata as producer. He wanted to write a story that shows another take on the heroes of the previous game. Even though the game is free to play and features microtransactions, Tabata reassured in an interview that Agito is still enjoyable "even if you don't throw money at it".
Game design
Edit
Gameplay and drama must be exciting to create a special experience, which is what his idea of Final Fantasy is. He prefers a system in which the player can move the characters freely like an open world setting, and in which he/she can touch the world and enjoy its feeling and presence.
Works in the Series
Edit
References
Edit