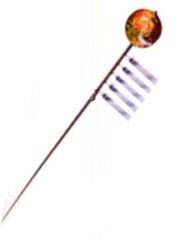 Hairpin (かんざし, Kanzashi?) is a recurring weapon and helmet in the series.
Appearances
Edit
VII Hairpin is a mid-ranked weapon for Red XIII, providing 57 Attack, 120 ATK%, 15 Magic, is Long Range, Critical +5%, and has no Materia slots. It can be bought for 3,500 gil at Junon after obtaining the Highwind or found as treasure at Wutai Village at Godo's house.
Dissidia Hairpin is the weakest hairpin, being a level 15 hairpin that provides -97 HP and +103 Bravery. It can be obtained at the shop by trading 1,850 gil.
Dissidia012 Hairpin returns as a level 1 hairpin that provides -159 HP and +105 Bravery. It can be obtained at the shop by trading 4,200 gil.

This article or section is a stub about equipment in Final Fantasy Record Keeper. You can help the Final Fantasy Wiki by expanding it.
Ad blocker interference detected!
Wikia is a free-to-use site that makes money from advertising. We have a modified experience for viewers using ad blockers

Wikia is not accessible if you've made further modifications. Remove the custom ad blocker rule(s) and the page will load as expected.