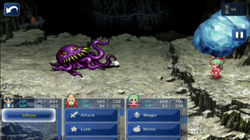 Hailstone (ヘールストーン, Hērusutōn?), also known as Lode Stone, is a recurring enemy ability in the series.
Appearances
Edit
VI Hailstone is an enemy ability used by Ultros during the battle at Esper Caves, Yeti, and Landworm. It reduces one target's HP by 1/4 its current total at the cost of 20 MP, and is unblockable but fails on targets immune to Instant Death.
Etymology
Edit
Hail is a form of solid precipitation. It is distinct from sleet, though the two are often confused for one another. It consists of balls or irregular lumps of ice, each of which is called a hailstone.
Ad blocker interference detected!
Wikia is a free-to-use site that makes money from advertising. We have a modified experience for viewers using ad blockers

Wikia is not accessible if you've made further modifications. Remove the custom ad blocker rule(s) and the page will load as expected.