Gysahl (Final Fantasy III)
Talk

0
13,963 pages on
this wiki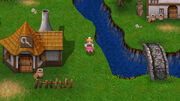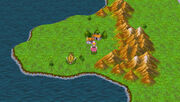 Gysahl (ギサール, Gisāru?), also known as Gisahl, is a village at the edge of the Floating Continent in Final Fantasy III. It is known for raising chocobos and has the same name as the famous Gysahl Greens that attract these useful beasts. This town also specializes in making Magic Keys.
In the DS version of the game, a secret room exists beyond the rightmost wall in the first room of the inn. Talking to the old man there brings up a Bestiary that includes an Achievements record.
Item Shop (Magic Key)Edit
| Name | Cost |
| --- | --- |
| Magic Key | 100 gil |
| Item | Location |
| --- | --- |
| Shuriken | Key Shop |
| Gysahl Greens | In a pot in the chocobo stable |
| Gysahl Greens | In a pot in the chocobo stable |
Note: Enemies are only encountered outside of the town.
The background music that plays in Gysahl is called "Veggies of Gysahl".

Other appearances
Edit
One of the original servers in Final Fantasy XIV was named Gysahl. It was merged with the Wutai server into the Masamune server.