Gungnir (Ability)
Talk

0
14,814 pages on
this wiki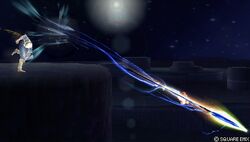 Gungnir (グングニル, Gunguniru?) is a recurring ability in the Final Fantasy series. It is often a signature attack of Odin, used in some games instead of Zantetsuken when Zantetsuken would not be able to kill enemies outright, and hits enemies for high damage rather than inflicting Instant Death like Zantetsuken.
Appearances
Edit
Gungnir will be used by Odin when summoned against an enemy immune to Zantetsuken. Gungnir attacks one enemy for heavy non-elemental damage.
Gungnir is used by Odin if summoned against a group of enemies and Zantetsuken is calculated to not work either due to immunity or the attack missing. Gungnir attacks one enemy for non-elemental damage equal to 4.875x base magic damage.
While the attack is still called Zantetsuken, Odin will use Gungnir to attack enemies instead of Zantetsuken if Garnet has the Odin's Sword ability equipped. The power of the attack is 145, minus one for the total number of Ore in the player's inventory.

This article or section is a
stub
about an ability in
Final Fantasy Dimensions
. You can
help
Final Fantasy Wiki by
expanding it
.
Gungnir is an HP attack usable by Kain. Kain throws his spear at his opponent, driving them back and inflicting Wall Rush. Gungnir costs 30 CP to equip and 130 AP to master.