I am Ragnarok, the demon blade. Let us test your strength to see if you are worthy!
—Guardian/Ragnarok
The Guardian is a boss from Final Fantasy III, found in the Forbidden Land Eureka guarding Ragnarok. This foe relies heavily on physical attacks, acts twice per turn, and has the ability to inflict Confuse. He can also cast Reflect, so be careful when using magic against him. Once he is defeated, the party receives the Ragnarok.
Other appearances
Edit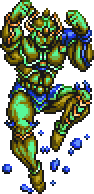 This article or section is a stub about an enemy in Final Fantasy Record Keeper. You can help the Final Fantasy Wiki by expanding it.
Related enemies
Edit
Ad blocker interference detected!
Wikia is a free-to-use site that makes money from advertising. We have a modified experience for viewers using ad blockers

Wikia is not accessible if you've made further modifications. Remove the custom ad blocker rule(s) and the page will load as expected.