Grimoire Valentine
Talk

0
14,797 pages on
this wiki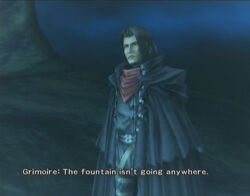 Grimoire Valentine (グリモア・ヴァレンタイン, Gurimoa Varentain?) is a scientist and father of Vincent Valentine who was introduced in Dirge of Cerberus -Final Fantasy VII-.
Appearance and Personality
Edit
Grimoire's red ascot was specifically designed to be reminiscent of his son Vincent's red bandanna.


This article or section is a
stub
about a character in 
Dirge of Cerberus -Final Fantasy VII-
. You can
help
Final Fantasy Wiki by
expanding it
.
Grimoire worked on the discovery of Chaos and Omega with Lucrecia Crescent, who was his assistant. It is said he found a Cetran tablet, which spoke of Omega and Chaos, and was the one to write the first Omega Reports. He located the place where Chaos was destined to be born, Lucrecia's Cave, alongside Lucrecia. Grimoire was killed when an experiment during his research went wrong and he shielded Lucrecia from the blast.
The Omega Reports, written by Grimoire and Lucrecia, make evident how long their research of Chaos and Omega was. The reports show the hypothesis Dr. Valentine and his colleagues made during the research, and states Grimoire was the one to discover the spring where Omega was to be born. Report number 6, written by Lucrecia, says "The doctor believes the crystalline spring contains contaminated deposits of bioplasma that have overflown from the pure Lifestream". The Omega reports mention the Protomateria, the materia found in the Crystal Cavern, a materia of one-of-a-kind, created by the dark Lifestream.
Having been part of the events that lead to Grimoire's death made Lucrecia feel guilty, and she distanced herself from Vincent. During the discovery of Chaos and Omega, Grimoire and his team stumbled upon a stagnation of Lifestream onsite. Scientists took this information and took the stagnation and put it into children about to be born, but did not know how it was going to turn out; even though they did hundreds of experiments, there was only one experiment that was successful — Nero the Sable.
Not much is known of the relationship Grimoire had with his son, Vincent. Grimoire's last word to Lucrecia were, "Tell my son I'm sorry."
Etymology
Edit
A grimoire is a book of spells.