Final Fantasy X-2 Enemy
Grim Gaze
デスゲイズ (Desu Geizu)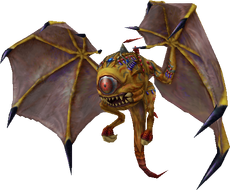 Evil Eye
Statistics
Level
HP
MP
33
1,720
388
Strength
Magic
Defense
31
5
21
M. Defense
Agility
Accuracy
8
62
4
Evasion
Luck
27
0
EXP
AP
Gil
244
1
130
Grim Gaze
デスゲイズ (Desu Geizu)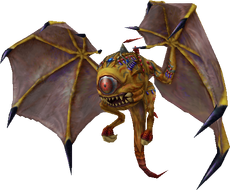 Evil Eye
Statistics
Level
HP
MP
41
4,223
388
Strength
Magic
Defense
31
5
21
M. Defense
Agility
Accuracy
8
79
5
Evasion
Luck
59
0
EXP
AP
Gil
380
2
220
Location
Cavern of the Stolen Fayth
Mt. Gagazet
Via Infinito Floors 41 - 43
Chapters
3, 5
Common Steal
Pixie Dust
Rare Steal
Pixie Dust
Gil Steal
650
Common Drop
Remedy x3
Rare Drop
Remedy x4
Common Bribe
Elixir x4
Rare Bribe
Elixir x4
Abilities
Blizzaga, Firaga, Halting Gaze, Supersonic Wave, Thundaga, Waterga
Blue Bullet
None
Status Resist
Eject (23), Zantetsu (4)
Status Immunity
Confusion, Berserk, Curse, Multiple Damage
Other Information
N/A
Normal: "A fiend whose gaze can inflict stop or pointless on its enemies. It can also poison and confuse the whole party with Supersonic Waves. What a meanie!"
Oversoul: "In addition to its usual gaze attacks, this oversouled fiend has gained the unfortunate ability to attack with elemental magic."
— Scan
Grim Gaze is a fiend in Final Fantasy X-2.
Fiend Tale
Edit
In the Fiend Tale endings, a notable Grim Gaze was created from the spirit of a Zanarkand Fifth Special Unit captain who died while on a mission to investigate Vegnagun. Upon learning that his mission was null and void, Grim Gaze lamented before learning his followers have become Vertigos and act on a new mission to protect the Gagazet Springs.
Related enemies
Edit
Ad blocker interference detected!
Wikia is a free-to-use site that makes money from advertising. We have a modified experience for viewers using ad blockers

Wikia is not accessible if you've made further modifications. Remove the custom ad blocker rule(s) and the page will load as expected.