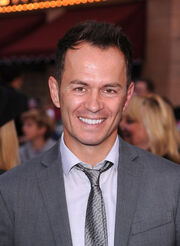 Greg Ellis (born March 21st, 1968) is an English actor and voice actor. He is the voice of Cait Sith in the Compilation of Final Fantasy VII.
Background
Edit
Outside of the series, Ellis is known for his roles as Cullen in the Dragon Age series and as Simon Wicard in Rogue Galaxy.
External links
Edit
Ad blocker interference detected!
Wikia is a free-to-use site that makes money from advertising. We have a modified experience for viewers using ad blockers

Wikia is not accessible if you've made further modifications. Remove the custom ad blocker rule(s) and the page will load as expected.