Great Forest of Moore
Talk

2
13,960 pages on
this wiki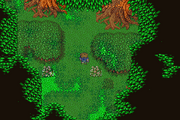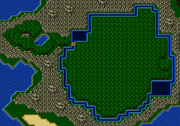 The Great Forest of Moore (ムーアの大森林, Mūa no Daishinrin?) is an ancient sentient forest of great natural power in Final Fantasy V. Bounded by mountains and ringed by lakes and rivers, it is normally accessible only by a bridge. The forest seals itself from all except those it chooses to permit access. The closest significant inhabited settlement is the town of Moore to the west of the forest.
If the player lands the black chocobo in the middle of the forest in the third world they will lose it forever.
One particular tree in the Great Forest of Moore was used to seal the many evils and demons of the world. The imprisoning tree eventually became corrupted by these sealed evils, transforming into the evil sorcerer Exdeath, whom the Warriors of Dawn sealed in the first world.
When the power of the Four Crystals of Bartz's world died, Exdeath was released from his sealed prison and returned to Galuf's world to re-establish his power. Exdeath sought access to the Great Forest of Moore, but the forest had sealed itself. Using Bartz and his friends to gain access to the forest, Exdeath entered and set the forest alight.
Inside the forest's great tree, Bartz and his friends encounter the Four Crystals particular to Galuf's world, which attack them under Exdeath's control. Galuf saves the others from Exdeath, but at the cost: one of the crystals shatters, and Galuf expends the last of his life energy fighting Exdeath.
Exdeath takes the remaining three crystals to his castle. During the battle with Exdeath he succeeds in his plan to shatter the three remaining crystals, which triggers the two worlds to merge. In the process, the Great Forest of Moore merges with the Desert of Shifting Sands in the other world, and all the trees die save for a small grove around the great tree.
At the story's end only the great tree and its grove remain. It is hoped that, with the restoration of the the Four Crystals' power, the Great Forest of Moore will once again restore itself in time.
Inside (Alien World)
Edit
Inside (Merged World)
Edit
The background music for the Forest of Moore is called "Legend of the Deep Forest", but was later renamed "As I Feel, You Feel".