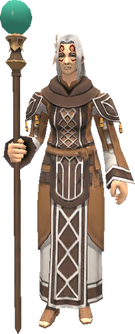 Grav'iton Berrisaci is a character in Final Fantasy XI. An ancient Kuluu bound in the form of a Tonberry, she harbors memories of ancient times and is the central figure of the Temple of Uggalepih mission in the Rise of the Zilart expansion. She can be found in the Sacrificial Chamber in the Den of Rancor, where she will detail the history of the Zilart's attempt to open the door to the realm of the gods and of the Kuluu's efforts to stop that plan.
Grav'iton and her associates, Molyb'iton and Tungs'iton, must be defeated in Zilart Mission 4: The Temple of Uggalepih.
Ad blocker interference detected!
Wikia is a free-to-use site that makes money from advertising. We have a modified experience for viewers using ad blockers

Wikia is not accessible if you've made further modifications. Remove the custom ad blocker rule(s) and the page will load as expected.