Grat
グラット (

Guratto

?)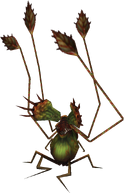 Statistics
Level
HP

0.45(Lv)² + 9(Lv) + 200

Level
HP

0.45(Lv)² + 9(Lv) + 200

1
209
19
533
STR

([4.4(Lv)] + [(Lv) / 2] - [(Lv)² / 400] + 8) / 4

MAG

([4.4(Lv)] + [(Lv) / 4] - [(Lv)² / 340] + 4) / 4

STR

([4.4(Lv)] + [(Lv) / 2] - [(Lv)² / 400] + 8) / 4

MAG

([4.4(Lv)] + [(Lv) / 4] - [(Lv)² / 340] + 4) / 4

3
2
25
22
VIT

((Lv) / 16) + 3

SPR

((Lv) / 10) + 8

VIT

((Lv) / 16) + 3

SPR

((Lv) / 10) + 8

3
8
4
9
SPD

((Lv) / 6) - [(Lv) / 12] + 8

EVA

((Lv) / 11) - [(Lv) / 22]

SPD

((Lv) / 6) - [(Lv) / 12] + 8

EVA

((Lv) / 11) - [(Lv) / 22]

8
0
10
1
EXP

10(Lv)² + 28

AP
EXP

10(Lv)² + 28

AP
38
2
218
2
Grat
グラット (

Guratto

?)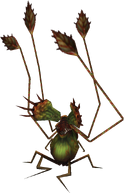 Statistics
Level
HP

0.45(Lv)² + 9(Lv) + 200

Level
HP

0.45(Lv)² + 9(Lv) + 200

20
560
29
839
STR

([4.4(Lv)] + [(Lv) / 2] - [(Lv)² / 400] + 8) / 4

MAG

([4.4(Lv)] + [(Lv) / 4] - [(Lv)² / 340] + 4) / 4

STR

([4.4(Lv)] + [(Lv) / 2] - [(Lv)² / 400] + 8) / 4

MAG

([4.4(Lv)] + [(Lv) / 4] - [(Lv)² / 340] + 4) / 4

26
24
36
34
VIT

((Lv) / 16) + 3

SPR

((Lv) / 10) + 8

VIT

((Lv) / 16) + 3

SPR

((Lv) / 10) + 8

4
10
4
10
SPD

((Lv) / 6) - [(Lv) / 12] + 8

EVA

((Lv) / 11) - [(Lv) / 22]

SPD

((Lv) / 6) - [(Lv) / 12] + 8

EVA

((Lv) / 11) - [(Lv) / 22]

10
1
10
1
EXP

10(Lv)² + 28

AP
EXP

10(Lv)² + 28

AP
228
2
318
2
Grat
グラット (

Guratto

?)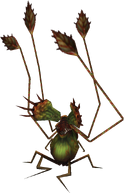 Statistics
Level
HP

0.45(Lv)² + 9(Lv) + 200

Level
HP

0.45(Lv)² + 9(Lv) + 200

30
875
100
5,600
STR

([4.4(Lv)] + [(Lv) / 2] - [(Lv)² / 400] + 8) / 4

MAG

([4.4(Lv)] + [(Lv) / 4] - [(Lv)² / 340] + 4) / 4

STR

([4.4(Lv)] + [(Lv) / 2] - [(Lv)² / 400] + 8) / 4

MAG

([4.4(Lv)] + [(Lv) / 4] - [(Lv)² / 340] + 4) / 4

38
35
118
110
VIT

((Lv) / 16) + 3

SPR

((Lv) / 10) + 8

VIT

((Lv) / 16) + 3

SPR

((Lv) / 10) + 8

4
11
9
18
SPD

((Lv) / 6) - [(Lv) / 12] + 8

EVA

((Lv) / 11) - [(Lv) / 22]

SPD

((Lv) / 6) - [(Lv) / 12] + 8

EVA

((Lv) / 11) - [(Lv) / 22]

11
1
16
5
EXP

10(Lv)² + 28

AP
EXP

10(Lv)² + 28

AP
328
2
1,028
2
| Lv | HP | STR | MAG | VIT | SPR | SPD | EVA | EXP |
| --- | --- | --- | --- | --- | --- | --- | --- | --- |
| 1 | 209 | 3 | 2 | 3 | 8 | 8 | 0 | 38 |
| 2 | 219 | 4 | 3 | 3 | 8 | 8 | 0 | 48 |
| 3 | 231 | 5 | 4 | 3 | 8 | 8 | 0 | 58 |
| 4 | 243 | 6 | 5 | 3 | 8 | 8 | 0 | 68 |
| 5 | 256 | 8 | 6 | 3 | 8 | 8 | 0 | 78 |
| 6 | 270 | 9 | 7 | 3 | 8 | 9 | 0 | 88 |
| 7 | 285 | 10 | 8 | 3 | 8 | 9 | 0 | 98 |
| 8 | 300 | 11 | 10 | 3 | 8 | 9 | 0 | 108 |
| 9 | 317 | 12 | 11 | 3 | 8 | 9 | 0 | 118 |
| 10 | 335 | 14 | 12 | 3 | 9 | 9 | 0 | 128 |
| Lv | HP | STR | MAG | VIT | SPR | SPD | EVA | EXP |
| --- | --- | --- | --- | --- | --- | --- | --- | --- |
| 11 | 353 | 15 | 13 | 3 | 9 | 9 | 1 | 138 |
| 12 | 372 | 16 | 14 | 3 | 9 | 9 | 1 | 148 |
| 13 | 393 | 17 | 16 | 3 | 9 | 9 | 1 | 158 |
| 14 | 414 | 19 | 17 | 3 | 9 | 9 | 1 | 168 |
| 15 | 436 | 20 | 18 | 3 | 9 | 9 | 1 | 178 |
| 16 | 459 | 21 | 19 | 4 | 9 | 9 | 1 | 188 |
| 17 | 483 | 22 | 20 | 4 | 9 | 9 | 1 | 198 |
| 18 | 507 | 24 | 21 | 4 | 9 | 10 | 1 | 208 |
| 19 | 533 | 25 | 22 | 4 | 9 | 10 | 1 | 218 |
| 20 | 560 | 26 | 24 | 4 | 10 | 10 | 1 | 228 |
| Lv | HP | STR | MAG | VIT | SPR | SPD | EVA | EXP |
| --- | --- | --- | --- | --- | --- | --- | --- | --- |
| 21 | 587 | 27 | 25 | 4 | 10 | 10 | 1 | 238 |
| 22 | 615 | 28 | 26 | 4 | 10 | 10 | 1 | 248 |
| 23 | 645 | 29 | 27 | 4 | 10 | 10 | 1 | 258 |
| 24 | 675 | 31 | 28 | 4 | 10 | 10 | 1 | 268 |
| 25 | 706 | 32 | 29 | 4 | 10 | 10 | 1 | 278 |
| 26 | 738 | 33 | 30 | 4 | 10 | 10 | 1 | 288 |
| 27 | 771 | 34 | 31 | 4 | 10 | 10 | 1 | 298 |
| 28 | 804 | 36 | 33 | 4 | 10 | 10 | 1 | 308 |
| 29 | 839 | 36 | 34 | 4 | 10 | 10 | 1 | 318 |
| 30 | 875 | 38 | 35 | 4 | 11 | 11 | 1 | 328 |
| Lv | HP | STR | MAG | VIT | SPR | SPD | EVA | EXP |
| --- | --- | --- | --- | --- | --- | --- | --- | --- |
| 31 | 911 | 39 | 36 | 4 | 11 | 11 | 1 | 338 |
| 32 | 948 | 40 | 37 | 5 | 11 | 11 | 1 | 348 |
| 33 | 987 | 41 | 38 | 5 | 11 | 11 | 2 | 358 |
| 34 | 1026 | 43 | 39 | 5 | 11 | 11 | 2 | 368 |
| 35 | 1066 | 44 | 40 | 5 | 11 | 11 | 2 | 378 |
| 36 | 1107 | 45 | 42 | 5 | 11 | 11 | 2 | 388 |
| 37 | 1149 | 46 | 42 | 5 | 11 | 11 | 2 | 398 |
| 38 | 1191 | 47 | 44 | 5 | 11 | 11 | 2 | 408 |
| 39 | 1235 | 48 | 45 | 5 | 11 | 11 | 2 | 418 |
| 40 | 1280 | 50 | 46 | 5 | 12 | 11 | 2 | 428 |
| Lv | HP | STR | MAG | VIT | SPR | SPD | EVA | EXP |
| --- | --- | --- | --- | --- | --- | --- | --- | --- |
| 41 | 1325 | 51 | 47 | 5 | 12 | 11 | 2 | 438 |
| 42 | 1371 | 52 | 48 | 5 | 12 | 12 | 2 | 448 |
| 43 | 1419 | 53 | 49 | 5 | 12 | 12 | 2 | 458 |
| 44 | 1467 | 54 | 50 | 5 | 12 | 12 | 2 | 468 |
| 45 | 1516 | 55 | 52 | 5 | 12 | 12 | 2 | 478 |
| 46 | 1566 | 57 | 52 | 5 | 12 | 12 | 2 | 488 |
| 47 | 1617 | 58 | 53 | 5 | 12 | 12 | 2 | 498 |
| 48 | 1668 | 59 | 55 | 6 | 12 | 12 | 2 | 508 |
| 49 | 1721 | 60 | 56 | 6 | 12 | 12 | 2 | 518 |
| 50 | 1775 | 61 | 57 | 6 | 13 | 12 | 2 | 528 |
| Lv | HP | STR | MAG | VIT | SPR | SPD | EVA | EXP |
| --- | --- | --- | --- | --- | --- | --- | --- | --- |
| 51 | 1829 | 62 | 58 | 6 | 13 | 12 | 2 | 538 |
| 52 | 1884 | 64 | 59 | 6 | 13 | 12 | 2 | 548 |
| 53 | 1941 | 65 | 60 | 6 | 13 | 12 | 2 | 558 |
| 54 | 1998 | 66 | 61 | 6 | 13 | 13 | 2 | 568 |
| 55 | 2056 | 67 | 62 | 6 | 13 | 13 | 3 | 578 |
| 56 | 2115 | 68 | 63 | 6 | 13 | 13 | 3 | 588 |
| 57 | 2175 | 69 | 64 | 6 | 13 | 13 | 3 | 598 |
| 58 | 2235 | 71 | 66 | 6 | 13 | 13 | 3 | 608 |
| 59 | 2297 | 72 | 66 | 6 | 13 | 13 | 3 | 618 |
| 60 | 2360 | 73 | 68 | 6 | 14 | 13 | 3 | 628 |
| Lv | HP | STR | MAG | VIT | SPR | SPD | EVA | EXP |
| --- | --- | --- | --- | --- | --- | --- | --- | --- |
| 61 | 2423 | 74 | 69 | 6 | 14 | 13 | 3 | 638 |
| 62 | 2487 | 75 | 70 | 6 | 14 | 13 | 3 | 648 |
| 63 | 2553 | 76 | 71 | 6 | 14 | 13 | 3 | 658 |
| 64 | 2619 | 77 | 72 | 7 | 14 | 13 | 3 | 668 |
| 65 | 2686 | 79 | 73 | 7 | 14 | 13 | 3 | 678 |
| 66 | 2754 | 80 | 74 | 7 | 14 | 14 | 3 | 688 |
| 67 | 2823 | 81 | 75 | 7 | 14 | 14 | 3 | 698 |
| 68 | 2892 | 82 | 76 | 7 | 14 | 14 | 3 | 708 |
| 69 | 2963 | 83 | 77 | 7 | 14 | 14 | 3 | 718 |
| 70 | 3035 | 84 | 78 | 7 | 15 | 14 | 3 | 728 |
| Lv | HP | STR | MAG | VIT | SPR | SPD | EVA | EXP |
| --- | --- | --- | --- | --- | --- | --- | --- | --- |
| 71 | 3107 | 85 | 79 | 7 | 15 | 14 | 3 | 738 |
| 72 | 3180 | 87 | 80 | 7 | 15 | 14 | 3 | 748 |
| 73 | 3255 | 88 | 82 | 7 | 15 | 14 | 3 | 758 |
| 74 | 3330 | 89 | 82 | 7 | 15 | 14 | 3 | 768 |
| 75 | 3406 | 90 | 84 | 7 | 15 | 14 | 3 | 778 |
| 76 | 3483 | 91 | 85 | 7 | 15 | 14 | 3 | 788 |
| 77 | 3561 | 92 | 86 | 7 | 15 | 14 | 4 | 798 |
| 78 | 3639 | 93 | 87 | 7 | 15 | 15 | 4 | 808 |
| 79 | 3719 | 94 | 88 | 7 | 15 | 15 | 4 | 818 |
| 80 | 3800 | 96 | 89 | 8 | 16 | 15 | 4 | 828 |
| Lv | HP | STR | MAG | VIT | SPR | SPD | EVA | EXP |
| --- | --- | --- | --- | --- | --- | --- | --- | --- |
| 81 | 3881 | 97 | 90 | 8 | 16 | 15 | 4 | 838 |
| 82 | 3963 | 98 | 91 | 8 | 16 | 15 | 4 | 848 |
| 83 | 4047 | 99 | 92 | 8 | 16 | 15 | 4 | 858 |
| 84 | 4131 | 100 | 93 | 8 | 16 | 15 | 4 | 868 |
| 85 | 4216 | 101 | 94 | 8 | 16 | 15 | 4 | 878 |
| 86 | 4302 | 102 | 95 | 8 | 16 | 15 | 4 | 888 |
| 87 | 4389 | 103 | 96 | 8 | 16 | 15 | 4 | 898 |
| 88 | 4476 | 105 | 97 | 8 | 16 | 15 | 4 | 908 |
| 89 | 4565 | 106 | 98 | 8 | 16 | 15 | 4 | 918 |
| 90 | 4655 | 107 | 99 | 8 | 17 | 16 | 4 | 928 |
| Lv | HP | STR | MAG | VIT | SPR | SPD | EVA | EXP |
| --- | --- | --- | --- | --- | --- | --- | --- | --- |
| 91 | 4745 | 108 | 100 | 8 | 17 | 16 | 4 | 938 |
| 92 | 4836 | 109 | 101 | 8 | 17 | 16 | 4 | 948 |
| 93 | 4929 | 110 | 102 | 8 | 17 | 16 | 4 | 958 |
| 94 | 5022 | 111 | 103 | 8 | 17 | 16 | 4 | 968 |
| 95 | 5116 | 112 | 104 | 8 | 17 | 16 | 4 | 978 |
| 96 | 5211 | 113 | 105 | 9 | 17 | 16 | 4 | 988 |
| 97 | 5307 | 114 | 106 | 9 | 17 | 16 | 4 | 998 |
| 98 | 5403 | 116 | 107 | 9 | 17 | 16 | 4 | 1008 |
| 99 | 5501 | 117 | 108 | 9 | 17 | 16 | 5 | 1018 |
| 100 | 5600 | 118 | 110 | 9 | 18 | 16 | 5 | 1028 |
Grat is an enemy in Final Fantasy VIII. It is a weak enemy and is found in Balamb Garden and in Ultimecia Castle.
It uses Acid and Vampire. Even though Grat has low HP, it has some deadly attacks, Gastric Juices being the most powerful, which poisons the player. This attack is physical and can be avoided with high evasion and luck. The chance of it casting Gastric Juice increases as the player levels. It is also a good source of Sleep and Silence early in the game.
Grat is one of the few non-boss monsters that is unaffected by Quistis's Degenerator Limit Break, Selphie's Rapture and Odin's never appears against it. The others are Vysage, Lefty, Righty, Cactuar, Tonberry, Esthar Soldier (Terminator), UFO? and PuPu.
Grat Card

Element
None
Refine
1 refines into 1 Magic Stone
Drop
Grat
Card
Grat
Level 2 (Monster Card)
Win
N/A