Gold Dragon
きんりゅう (Kinryū?)
Statistics
Level
HP
97
8,200
Strength
Defense
92
4
Magic
Magic Defense
30
39
EXP
Gil
10,095
20,000
Gold Dragon
きんりゅう (Kinryū?)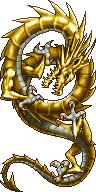 Statistics
Level
HP
97
8,200
Strength
Defense
92
4
Magic
Magic Defense
30
39
EXP
Gil
10,095
20,000
Gold Dragon
きんりゅう (Kinryū?)
Statistics
Level
HP
?
20,000
Strength
Defense
128
5
Magic
Magic Defense
79
50
EXP
Gil
20,150
25,000
Gold Dragon
きんりゅう (Kinryū?)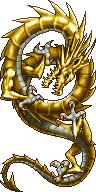 Statistics
Level
HP
?
20,000
Strength
Defense
128
5
Magic
Magic Defense
79
50
EXP
Gil
20,150
25,000
The Gold Dragon is an enemy in Final Fantasy IV: The After Years. It is not a difficult foe to defeat, as its main methods of attacking are a moderately powerful physical attack and Thunderbolt. It counters all damage with Constrict however, so be wary and bring protection to Paralysis. Gold Dragons will follow a pattern of Attack > Attack > Thunderbolt, at which point they will restart the loop. To avoid its counters and the possibility of Thunderbolt usage, Tornado and Stop are two excellent spells (Stop to prevent it from taking any action at all, and Tornado to reduce its HP to single digits). If neither spells are available, or the player does not have any mages in their party to cast said spells, using the Slow spell will give the player ample time to defeat the dragon before it uses Thunderbolt.
Etymology
Edit
[view · edit · purge]Gold is a chemical element with the symbol Au and atomic number 79. It is a dense, soft, malleable and ductile metal with a bright yellow color and luster, the properties of which remain without tarnishing when exposed to air or water.
[view · edit · purge]A dragon is a legendary creature, typically with serpentine or reptilian traits, that features in the myths of many cultures.
Related enemies
Edit