Golbez
19,244 pages on
this wiki
Talk

75
Cloud:

I couldn't finish 'em. Looks like this's gonna get complicated.

The following tables are incomplete and require the fill the TAY stat table areas to be filled. If you wish, please examine the table and add anything missing. Remove this notice upon completion.
Golbez, real name Theodor (セオドール, Seodōru?), and called Man in Black (黒衣の男, Kokui no Otoko?) before his identity is revealed in The After Years, is a non-player character in Final Fantasy IV and a playable character in Final Fantasy IV: The After Years. In Final Fantasy IV, he is an antagonist, a powerful sorcerer who pursues the Crystals. In The After Years, Golbez returns as a playable character.
Golbez has also appeared as a playable character in the fighting games, Dissidia Final Fantasy and Dissidia 012 Final Fantasy, as the villain opposing Cecil.
Appearance
Edit
Final Fantasy IVEdit
Playable character
Edit
Golbez appears as a playable character during two AI-controlled fights at the end of the game, fighting Zemus and Zeromus alongside Fusoya. He knows the Black Magic spells Firaga, Blizzaga, Thundaga, Meteor and Twincasts Double Meteor with Fusoya. As a child, Golbez was attempting to learn Cure, but has no proficiency with White Magic as an adult.
Golbez's HP in his and Fusoya's battle against Zemus at the end of Final Fantasy IV (2,943) can alternatively be read in Japanese as (憎しみ, nikushimi?), which means "hatred", while his starting HP in The After Years (2,971) can be read as (償い, tsugunai?), meaning "atonement".
In the 3D version, Golbez can be hacked into the player's party and is entirely functional. He also has his own set of stats and he also has his own victory pose. He starts at level 1 and knows every single Black Magic spells. He starts with four abilities learned, but none are equipped. His known abilities are: Attack, Defend, Items, and Black Magic. Golbez's is right-handed. Upon level up, his HP does not increase while all his other stats increases. On the status screen, Theodor appears instead of the armored Golbez. But during battle, the armored Golbez appears. His job is Lunarian. Golbez also starts out with no equipment. For weaponry, Golbez can equip every dark swords, swords (except Thundershard), rods, and staves. He can equip a wide range of armor that doesn't entirely focuses on single types of armor.
Golbez will go back to level 1 every time the player turns the power off, he'll lose his stats, equipped weapon and armor, and as well as his equipped abilities.
Weapons

| Dark Swords | Swords | Rods | Staves | Daggers |
| --- | --- | --- | --- | --- |
| | | | | |
Armor

| Shields | Head | Body | Arms |
| --- | --- | --- | --- |
| | | | |
Stats

| Level | HP | MP | Strength | Speed | Stamina | Intelligence | Spirit |
| --- | --- | --- | --- | --- | --- | --- | --- |
| 1 | 2943 | 13 | 6 | 5 | 7 | 3 | 3 |
Golbez is fought once as a boss and knows several strong spells. In the original 2D releases, Golbez has a simple attack pattern, but in the 3D release, he acquires elemental weaknesses and resistances, casts stronger magic than before and is overall a much more difficult enemy.

Final Fantasy IV: The After YearsEdit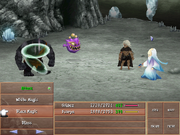 Golbez can equip swords, axes, spears, hammers, rods, staves and daggers, as well as a combination of heavy armor and lightweight hats and robes. He has access to the Pressure ability, which paralyzes an enemy, Taunt, which draws enemy attacks toward him, and Black Magic. Golbez doesn't learn the status-type spells that Palom and Rydia can, but has the advantage of knowing Firaga, Blizzaga and Thundaga at a much earlier level.
Golbez's HP is initially 2,971, giving him a great deal of HP at first, but he will not gain more until Level 55, where he will be on par with other characters. Golbez's HP and Stamina are fairly high, and his MP, Strength and Intelligence are decent. These balanced stats, combined with his wide variety of equipment, allow Golbez to function as both a powerful attacker and an effective mage at once, though ultimately he is outclassed in both aspects by dedicated characters.
The Golbez who fights in the flashbacks of The After Years is an entirely different character in terms of game data, with slightly different stats from the normal Golbez. If hacked into the party he can grow to Level 45, the level cap of The Lunarian's Tale, and will keep the same HP while his other stats increase normally as the normal Golbez. However, the flashback Golbez will not learn any new spells, and does not have the real Golbez's Pressure and Taunt abilities.
Stats

| Level | HP | MP | Strength | Speed | Stamina | Intelligence | Spirit |
| --- | --- | --- | --- | --- | --- | --- | --- |
| 30 | 2971 | 230 | 30 | 20 | 33 | 30 | 25 |
| 40 | 2971 | 313 | 41 | 25 | 44 | 37 | 30 |
| 50 | 2971 | 391 | 51 | 30 | 55 | 47 | 37 |
| 60 | 3592 | 475 | 59 | 34 | 65 | 55 | 38 |
| 70 | 4821 | 553 | 67 | 38 | 75 | 63 | 39 |
| 80 | 5771 | 600 | 69 | 40 | 76 | 65 | 41 |
| 90 | 6744 | 647 | 72 | 43 | 79 | 66 | 41 |
| 99 | 7601 | 686 | 74 | 45 | 81 | 68 | 42 |
Abilities
Edit
Band Abilities
Ability
Members
MP
Effect
Double Black Magic
30
Cast a powerful Black Magic spell on enemies.
Double Pressure

Golbez (Pressure)
Cecil (Cover)

20
Slows down all enemies.
Ultima Spark

Golbez (Black Magic)
Cecil (White Magic)

50
Inflicts non-elemental magic damage on all enemies. Can break damage limit.
Advanced Blade

Golbez (Black Magic)
Cecil (Attack)
Ceodore (Attack)

40
Imbue your sword with magic and attack one enemy. Can break damage limit.
Spiral Blow
22
Two fighters attack one enemy.
Weapons

| Swords | Daggers | Axes | Hammers |
| --- | --- | --- | --- |
| | | | |
Armor

| Shields | Head | Body | Arms |
| --- | --- | --- | --- |
| | | | |
Creation and development
Edit
Golbez's character plays homage to Darth Vader from Star Wars, as stated by Takashi Tokita.[2] Both wear imposing dark armor that conceals their faces, and a long cape. Both have a connection the main character and work as pawns for the true antagonist.
In Final Fantasy IV, Golbez is voiced by Peter Beckman under the pseudonym Anthony Landor. Beckman returned to voice Golbez using his actual name in Dissidia Final Fantasy and Dissidia 012 Final Fantasy. In the Japanese versions of all three games, he is voiced by Takeshi Kaga, famous for his role as the Chairman on the television program Iron Chef.
Musical themes
Edit
Golbez is known for his dramatic and foreboding theme music, and is the first villain of the series to get his own theme. Golbez's music is titled "Golbez, Clad in Darkness" and plays often. It uses a pipe organ for its sound and is immediately recognizable in comparison to the other songs in the game. It incorporates a musical quotation from J.S. Bach's "Toccata and Fugue" in D Minor (BWV 565). A remix of the tune is used as the theme for the Tower of Zot. The theme's title has also been translated as "Golbez, Clad in the Dark" on official soundtracks.
A piano arrangement of the theme is included on the Piano Collections: Final Fantasy IV album.

Other appearances
Edit
Golbez appears as a non-elemental summon.
Three versions of Golbez's Phantom Stone are available, Golbez, Golbez RE, and Golbez OR. All Golbez Phantom Stones share the special attack, Black Fang, which deals non-elemental damage to all enemies and inflict instant death.
Some of the Phantom Stone of Golbez is based of a specific design of Golbez from throughout the Final Fantasy IV series of games. The Golbez RE Phantom Stones uses his 3D models from the 3D version of the game and the Golbez OR stone uses his battle sprite from the original Super Nintendo version of Final Fantasy IV.
Abilities
Edit
Golbez appears as a Warrior of Chaos and stands as the antagonist representing Final Fantasy IV, opposing Cecil Harvey.
Possessing motivations and desires more complex than most of the other antagonists, Golbez helps the heroes in their struggles in his secretive fashion while pretending to follow the plan set down by the Emperor. In his heart, Golbez is on the side of light, and works to assist the heroes in the hopes they break the cycle of war.
His alternate outfit is a palette swap based on his Final Fantasy IV battle sprites and DS render, giving him black armor and a red lining on his cape.
Golbez reappears as a Warrior of Chaos in the prequel to Dissidia Final Fantasy alongside all the other characters from the original. He plays a brief but important role in the main story, enlightening Kain to the nature of the cycle of war, information which motivates Kain to strike down his allies so they will survive to the next cycle instead of being killed permanently by the manikins. He speaks to Cosmos at the beginning of the thirteenth cycle before the war begins, rekindling her memories of the previous cycle when she laid the foundation for her plan to manifest Crystals for her warriors.
Golbez's second alternate outfit is his appearance in The After Years as the Man in Black, removing his armor and leaving him clad in a black kilt and cloak.

Golbez briefly appears in the Event Music Sequence "Theme of Love" which shows his boss battles from the original Final Fantasy IV.
Golbez appears as a boss in Final Fantasy IV Battle Music Sequences.

Golbez appears as a playable character and as a boss.
Golbez is a summonable Legend.
Golbez appears as a boss.
Golbez appear as an enemy and could be recruited to the party during the Challenge Event Man in Black as the First Time Reward for completing the event's Dwarven Castle in Part 1.
Stats
| Level | HP | Attack | Defense | Magic | Resistance | Mind | Accuracy | Evasion | Speed |
| --- | --- | --- | --- | --- | --- | --- | --- | --- | --- |
| 1 | 210 | 9 | 10 | 11 | 11 | 6 | 20 | 20 | 76 |
| 10 | 817 | 23 | 21 | 34 | 27 | 15 | 20 | 20 | 79 |
| 20 | 1,492 | 39 | 35 | 55 | 46 | 25 | 20 | 21 | 83 |
| 30 | 2,167 | 54 | 51 | 74 | 65 | 35 | 21 | 21 | 87 |
| 40 | 2,842 | 70 | 67 | 92 | 83 | 45 | 21 | 22 | 92 |
Abilities
Golbez can use Black Magic spells up to rarity rank 5, Physical/Combat abilities up to rarity rank 3, Physical/Support abilities up to rarity rank 3, and Other/Knight abilities up to rarity rank 5.
His initial Soul Break is Binding Cold which at the expense of one Soul Gauge segment attempts to inflict Paralysis on all enemies with 20% accuracy. The axe Rune Axe (IV) allows Golbez to use Black Fang which at the expense of one Soul Gauge segment deals four non-elemental magic attacks to a single target.
Equipment
Golbez can equip the following weapon types: daggers, swords, katanas, axes, hammers, and rods. The axe Rune Axe (IV) allows Golbez to use Black Fang.
He can equip the following armor types: shields, hats, helmets, light armor, armor, and bangles.
He can equip accessories.
Golbez is featured on many cards. Two depict his appearance as the Man in Black from Final Fantasy IV: The After Years and go by this name, and are of the Shine and Ice element. The others feature his 3D remake render, Dissidia Final Fantasy art, and SD artwork appearances, are of the Dark element. The Lightning element cards feature another Amano art and Golbez's render in Dissidia 012 Final Fantasy. His alternate outfit from Dissidia as the Man in Black is also depicted in a water-elemental card.
Referring to his control over the Archfiends, Golbez's Dissidia card has the effect that when moved to the Break Zone, the player can search their four cards of different elements and a cost of 2, and play them to the field for no cost, while his 3D render card lowers the cost to play it by 2 for each of the Archfiends the player controls, and allows the player to move an Archfiend they control to the Break Zone to Break a Forward of their choosing. His Amano art card references his control of Kain, allowing the player to select a Forward on the field and take control of it after Golbez attacks, if they control a Dark character. His Man in Black cards allude to his hidden identity, preventing them from being played while a Golbez card is in play, and the two each have an ability that mirror Golbez's Pressure and Taunt abilities, the former preventing a Forward from attacking and the latter redirecting damage to the player's Forwards to Golbez instead.
Golbez appears on Triple Triad cards in the version available via Final Fantasy Portal App.
Non-Final Fantasy guest appearancesEdit
Lord of VermilionEdit
In Lord of Vermilion II, Golbez appears as a card and summonable creature in the sequel to Lord of Vermilion, along with other characters from Final Fantasy IV as part of a special cross promotion. His Shadow Dragon is also a card.
In Lord of Vermilion III and Lord of Vermilion Arena, Golbez also appears as a card.
Guardian CrossEdit
Golbez, along with Cagnazzo, Rubicante, Barbariccia and Scarmiglione are all promotional cards in the game Guardian Cross (the latter four being promotional for the release of Final Fantasy IV for the Apple iPad). Golbez himself was part of the "Grab-A-Golbez" campaign. All of them are Rank 5 (the rarest), with Golbez being a Giant-type Guardian that would have been found in the Deadmoon Desert.

Rise of ManaEdit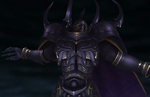 Golbez and Awoken Golbez are units and their ability is Binding Cold. Golbez can be promoted to Awoken Golbez.
Other media
Edit
Users in Square Enix Members Virtual World community can make their character appear as Golbez.
In Gunslinger Stratos 2, a costume based on Golbez was released in November 2014.
In the tactical Square Enix mobile game Heavenstrike Rivals, Cecil and Golbez were added as units in a special event from Christmas 2015 until the end of the year.[3]
Final Fantasy IV
Final Fantasy IV: The After Years
Dissidia Final Fantasy
Etymology
Edit
[view · edit · purge]"Theodore" is a common name of Greek origin, meaning "Gift from God".
"Golbeza" is a mistransliteration of Golubaeser (also known as Golubac Fly), as Golubaeser and Golbez(a) are written the same way in katakana (ゴルベーザ). [view · edit · purge]Golubaeser is a type of black fly named for the town of Golubac in Serbia. According to folk legends, the venomous flies were born from the body of a decomposing dragon. Golubaeser is also the name of a demon in the book Devils by J. Charles Wall.
This is a metaphor for what became of Theodor and further emphasized during Golbez's flashback scene in the 2D version, where Zemus taunts Theodor by calling him an insect that was "birthed from womb of dragon's corpse", both a reference to the Golubac Fly and a corruption of the Mysidian Legend. Several other names in Final Fantasy IV are also drawn from the book Devils by J. Charles Wall.
In the English localization of the 3D versions, Golbez is pronounced ˈɡoʊɫˌbɛz.
Golbez is one of the few Final Fantasy characters who are half-human along with Cecil Harvey, Terra Branford, Aerith Gainsborough, Yuna, Seymour Guado, and Lilisette.
At the initial release of the mobile version of The After Years, Golbez's name was mistranslated as his Japanese name "Golbeza" when he joined the party. This mistranslation was eventually fixed in a patch released a couple of months after the game's launch.
During flashbacks of Cecil's battles with Golbez in the The After Years, Golbez comes equipped with a sword called the "Ebony Blade" in his left hand, despite him not been shown to use swords before. The sword can be unequipped during the battle and added to the player's inventory.
Golbez has a menu portrait in the DS version, but it cannot be seen unless the player uses a cheat device to add him to their party. When the cheat is used, he shares some animations with Cid, and the game uses his child model in the field.
Golbez appears in the debug room in the North American and Australian Final Fantasy IV Advance version.
References
Edit