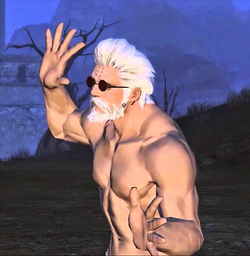 XIV Godbert Manderville is a non-playable character in Final Fantasy XIV. A master goldsmith, he had recently acquired a seat on this Syndicate. He is the father of Hildibrand Manderville and husband to Julyan Manderville.
Godbert is first seen in Final Fantasy XIV: A Realm Reborn at Camp Bronze Lake as a tourist resting in the hot springs. He features in several sidequests where players may assist him—up to and including rubbing salamander oil over his skin—and giving them a Meteor Survivor Ring in gratitude.
Appearance
Edit
Godbert is a male Highlander Hyur with snowy white hair and a beard. He wears a red-shaded pince-nez spectacles and in public usually wears a grey coatee and black boxer shorts, while other times he wears little more than his smallclothes, showing off his muscular build. During Syndicate meetings he wears a cowl. While normally using his brute strength and wrestling skills, Godbert can also use a goldsmith's hammer as his weapon, which he can grow to a size comparable to a warhammer.
Personality
Edit
He is best described by his son to have an aura of murderous rage, displaying superhuman strength and speed on occasion. The only person fears is his wife Julyan. His appearance is in contrast to the sort of man he actually is—in truth, Godbert is kind, polite, and civic-minded realizing that the foundation of wealth is built on the prosperity and happiness of an entire community, not just a few. Thus he supports the Starlight Celebration with funding (albeit anonymously) and is a large part of the reason he runs the Manderville Gold Saucer—his goal is to bring joy and contentment to the realm as much as it is to attain financial success.
While he's often nearly as much of a comedic stooge as his son, he does not share his son's lack of skill in his chosen profession. While the results are perhaps not always what a client may have had in mind, Godbert's skill at goldsmithing is prodigious and he is described as being the finest goldsmith in Eorzea, beyond even Gerolt, which has formed the backbone of his family's modern fortune.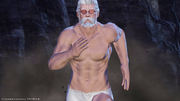 Godbert's services are needed to repair a priceless antique vase, and he is revealed to be both Hildibrand's father and a member of the Syndicate. Having been seen in Northern Thanalan where he defeated a chimera, Godbert is drawn out when Hildibrand teaches the adventurer to perform the Manderville dance. Godbert's first reaction upon seeing his son after years is to suplex him into the ground for not informing the family of his survival. Godbert agrees to repair the vase, and refurbishes it into an even fancier vase, indignant when the vase's owner points out the vase no longer resembles its original form.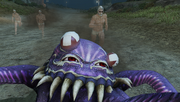 Godbert crosses paths with his son during the events at Master Fygreis's Coliseum, taking out a chimera and then chasing after Ultros when he attempts to sneak away. Godbert comes to Hildibrand's aid when the thief appears to be about to steal what is later revealed to be a replica of the Ring of Inquiry, but ends up throwing his son out of the coliseum. When they learn the thief is making for the last item at the Manderville Gold Saucer, Godbert offers his aid but suffers the wrath of his wife Julyan.
Godbert makes a quick cameo in the 2014 Starlight Celebration seasonal event quest and assists the adventurer in repairing (or rather, craft anew) a boy's broken memento of his father. The boy recognizes the craftmanship of an highly skilled goldsmith whose works he had seen in his father's books, but fails to recognize its origin and believes it instead to come from the Saint of Nymeia (who Godbert was disguised as).
Other appearances
Edit
Godbert appears on Triple Triad cards in the version available via Final Fantasy Portal App.
If the player finished his sidequests in Camp Bronze Lake before meeting Godbert in the Hildibrand quest, he will recognized them as "he/she of strong yet supple fingers."
Curiously, despite Godbert's otherwise pro-civics attitude in all other appearances (including an apology to a certain party wronged by the Ul'dah government at the end of A Realm Reborn's Hildibrand questline), during the patch 2.2 storyline he sides with the Monetarists in refusing the refugees of Doma sanctuary in Ul'dah. It also seems as if Raubahn Aldynn counts Godbert as a Monetarist, equating him with purely profit-driven individuals such as Lolorito. This apparent discrepancy has not been addressed in the game or by developers, though it is possible Godbert saw through Teledji Adeledji's ploy to gain sway over the refugees and turned them away to ensure they found safer accommodation elsewhere (as his would have been a deciding vote had he supported it). It's also stated that the Manderville Gold Saucer he opened in patch 2.51 mostly employs said refugees, allowing them to earn living wages, playing back into his pro-civics attitude.
Godbert is indirectly mentioned in Final Fantasy Brave Exvius in the description of the Meteor Survivor Ring, which refers to him as an "illustrious goldsmith in Eorzea".