Gilgamesh (Final Fantasy XII)
18,470 pages on
this wiki
Talk

0
Fools! You face the mightiest swordsman in all Ivalice! You face ME! GILGAMESH!
—Gilgamesh
Gilgamesh (ギルガメッシュ, Girugamesshu?) is a character in Final Fantasy XII and Final Fantasy XII: Revenant Wings, and appears as a recurring boss and as a cameo in a sidequest. Infamous across Ivalice, Gilgamesh is a duelist and a sword collector, much like in his various other appearances throughout the series. Gilgamesh is accompanied by Enkidu.
Gilgamesh uses weapons from various Final Fantasy games, as well as one from Dragon Quest (also known as Dragon Warrior). The swords differ from their appearances in their respective games, and the Bestiary states none of the swords are authentic. Like most appearances of Gilgamesh, he alludes to his original appearance in Final Fantasy V.
See also: Gilgamesh (character)
Appearance
Edit
Gilgamesh retains all the features that typically characterize him: an arsenal of weapons, red and orange clothing and a gray complexion. Gilgamesh has six arms, differing from the usual eight arms. His clothing is more regal with more gold decorations, possibly to fit in with the Ivalice setting.
Personality
Edit
Gilgamesh is a battle-hungry sword collector who is nonetheless an honorable fighter, and like his other appearances, is not openly hostile towards the party. His personality in Ivalice is more menacing, characterized by his more threatening dialogue and harsher voice than many of his other appearances. Gilgamesh is still a comic relief character, however, with his comical moments of failure.
Throughout the battles Gilgamesh wields various famous swords used by the protagonists of other Square Enix games. When he first appears he only uses unnamed katana that use the same model as the weapon Kotetsu, but as the fight progresses he draws his other swords. As a reference to Excalipoor and Excalibur, Gilgamesh's weapons are counterfeit versions of the real items.
These swords are:
Gilgamesh also wields the Wyrmhero Blade, his ultimate weapon that he uses in the last phase of the second battle with him. Unlike his other weapons however, the Wyrmhero Blade appears to be genuine, with no cosmetic differences from the version the player can acquire. When Gilgamesh is defeated he leaves the sword stuck in the dirt, examining it prompts the message "Appears to be just an ordinary sword of legend". As the player leaves the area, Gilgamesh reappears to seize the sword before fleeing.
Final Fantasy XIIEdit
Elite Mark
Edit
Main article: Gilgamesh (Final Fantasy XII boss)
Gilgamesh is fought twice in the Lhusu Mines after accepting the Elite Mark from Montblanc. During the first fight Gilgamesh uses basic attacks, but in the second fight he is a much more deadly foe with his HP tripled and new attacks. Many attacks are level based, such as Level 3 Disable, similar to Blue Magic spells he could wield in his Final Fantasy V appearance. Gilgamesh also gains additional cinematic attacks in his second fight.
Gilgamesh changes swords in fight, and Genji equipment can be stolen from him at certain HP percentages. He is the only Elite Mark with a change of battle theme. He is treated like a boss battle with an HP bar on screen.
Completing the hunt earns 10,000 gil and the Masamune, as well as his sprite in the Sky Pirate's Den. In the International Zodiac Job System version, the player will receive the Excalipoor instead of the Masamune, but the latter can still be acquired inside a treasure in the room where Gilgamesh is fought the second time.
Fishing Sidequest
Edit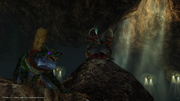 As part of the fishing minigame, after the second battle with Gilgamesh, the swordsman will appear in a niche at the end of the bridge at the Barheim Passage Zeviah Span. He hands the party the Matamune fishing rod and leaps away with Enkidu hot at his heels.

Final Fantasy XII: Revenant WingsEdit
Main article: Gilgamesh (Revenant Wings)
The greatest swordsman in all of Ivalice... or so he says.
—In-Game Description
Gilgamesh returns for Final Fantasy XII: Revenant Wings, as a Yarhi in the mission Battle on the Big Bridge, wandering around with Enkidu at the Gates of Shattered Time. He attacks Vaan and two other party members and summons more Enkidus into battle to assist him. Upon being defeated flees for his life, but not before alluding to his position as a summon.
After felling Gilgamesh in battle the party unlocks his sphere on the Ring of Pacts. Gilgamesh is a Rank III non-elemental melee Esper, sharing the same rank and spot with Odin, although Gilgamesh is more powerful and also has a special attack. His normal attack, Slice Thrice, hits the enemy three times, while his special attack, Masamune, deals physical damage to one target ignoring their defense.

Creation and development
Edit
Gilgamesh is voiced in the Japanese version by Daisuke Gori, who voiced Fungus in Final Fantasy: Unlimited, making it his final voice role in the Final Fantasy series before his death. In the English version Gilgamesh is voiced by John DiMaggio of Futurama fame, who also voices Migelo, as well as the Final Fantasy X characters, Wakka and Kimahri.

Musical themes
Edit
Gilgamesh' iconic theme, "Battle on the Big Bridge", appears in Final Fantasy XII. It is an arrangement by Hitoshi Sakimoto titled "Battle on the Big Bridge [FFXII Version]", and is the background theme for the two encounters with Gilgamesh and Enkidu at the Lhusu Mines.
The theme was released as the thirteenth track of Final Fantasy XII: Original Soundtracks third disc.
"Battle on the Big Bridge" does not play during the battle against him in Final Fantasy XII: Revenant Wings. The music for the area that plays in the battle is "The Estersand".

Other appearances
Edit
Gilgamesh's first alternate outfit, "Special Red Cloak," is based on his Final Fantasy VIII appearance, but during EX Mode, his appearance is stated to be based on his Final Fantasy XII design.

Etymology
Edit
[view  · edit  · purge] Gilgamesh was an ancient Sumerian king who ruled Uruk, modern day Iraq around 2650 BC. He is the main character of the Epic of Gilgamesh, which is considered one of the earliest great works of literature, the most complete edition dating back to the 7th century BC, though earlier editions date back to about 2000 BC. The epic centers around the king and demigod Gilgamesh and the wild man Enkidu who was sent to kill him. After a fight between the two, in which neither Gilgamesh nor Enkidu prove themselves stronger, they become loyal friends and embark on several epic adventures.
Gilgamesh from Final Fantasy is often portrayed with additional arms, which parallels with the multiple arms the historical Gilgamesh is often portrayed with. Enkidu, in turn, appears alongside Gilgamesh in bestial form, which likely refers to the wild and formerly untamed nature of Enkidu.
Gilgamesh is also inspired by Saitō Musashibō Benkei, a famous Japanese warrior monk said to have posted himself at Gōjō Bridge in Kyoto and dueled every passing swordsman, defeating 999 opponents and claiming their weapons. On his 1,000th duel, however, Benkei was defeated by Minamoto no Yoshitsune. Benkei devoted himself to Yoshitsune and became his faithful retainer throughout the rest of his life.
From the story of Benkei, Gilgamesh takes his preference for the naginata (Benkei's traditional weapon as a monk), his penchant for fighting on bridges, his collecting of weapons from enemies he defeats, and his friendship with the player's characters who defeat him. Benkei's devotion to Yoshitsune is the basis for Gilgamesh's association with Genji equipment—the Minamoto Clan is also called the Genji Clan, using the alternate pronunciation for the Chinese characters for mina and moto, gen and uji, respectively. Gilgamesh's face paint is based on traditional kabuki actors, for which Benkei is a popular character to portray.
Gilgamesh being fought on a bridge is a recurring motif of his character. Gilgamesh was introduced in Final Fantasy V where he was battled on the Big Bridge. In Final Fantasy XII he is first fought on a bridge in Lhusu Mines, and the clue for finding him in Barheim Passage as part of the fishing side quest has the player look for a broken bridge.
The boss battle contains many allusions to Gilgamesh's Final Fantasy V version in the attacks he uses in the battle, as well as the Genji equipment that can be stolen from him. Him wielding replicas of other Final Fantasy characters' swords refers to Gilgamesh's obsession with finding the legendary sword Excalibur in Final Fantasy V, as well as his dimension-transcending travels throughout the series.
References
Edit