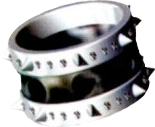 Gigas Armlet (ギガースの腕輪, Gigāsu no Udewa?, lit. Gigas Bracelet), also known as Gigas Bracelets, is a recurring piece of armor in the series.
Appearances
Edit
Gigas Armlet is a mid-ranked armor that provides 59 Defense and +30 Strength, as well as one unlinked Materia slot and two linked Materia slots with no growth. It can drop from Demons Gate or stolen from Gigas.
Non-Final Fantasy guest appearancesEdit
Seiken Densetsu 3Edit
The Giant's Ring is the ultimate accessory for Riesz should she take a final class on her Dark class of the Rune Maiden, being the Dark-Light Dragon Master or the Darkmost Fenrir Knight. It is an enormous edged ring carved from light blue gemstone, inscribed with runes. Large enough to be worn as a bracelet by a human, it is a grim memento of the giants of the distant past of Fa'Diel, who terrorized the world and dared to conquer even the heavens. Wearing it is said to bring an air of terror, as it is filled with the giants' grudge.
Etymology
Edit
[view · edit · purge]Gigas is a popular term for races of giants in fantasy games. Gigas is a Greek word meaning "giant," originally used to describe the race of Gigantes in Greek mythology and is used in the scientific name, as the specific epithet, of hundreds of species of animals and dozens of plant species to denote their size.