Vagrant Story Enemy
Giant Crab
クラブジャイアント (Kurabujyaianto)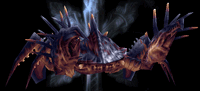 Statistics
Class
HP
MP
Beast
420
0
Strength
Intelligence
Agility
131
136
105
Affinities
Ph.
Ai.
Fi.
Ea.
40
15
25
55
Wa.
Li.
Da.
65
45
48
Type
Blunt
Edged
Pierce
5
20
30
Affinities
Ph.
Ai.
Fi.
Ea.
40
15
25
55
Wa.
Li.
Da.
65
45
48
Type
Blunt
Edged
Pierce
5
20
30
Affinities
Ph.
Ai.
Fi.
Ea.
40
15
25
55
Wa.
Li.
Da.
65
45
48
Type
Blunt
Edged
Pierce
35
25
5
Affinities
Ph.
Ai.
Fi.
Ea.
40
15
25
55
Wa.
Li.
Da.
65
45
48
Type
Blunt
Edged
Pierce
15
25
35
Affinities
Ph.
Ai.
Fi.
Ea.
40
15
25
55
Wa.
Li.
Da.
65
45
48
Type
Blunt
Edged
Pierce
8
23
28
Affinities
Ph.
Ai.
Fi.
Ea.
40
15
25
55
Wa.
Li.
Da.
65
45
48
Type
Blunt
Edged
Pierce
8
23
28
| | |
| --- | --- |
| Location | Undercity - Underdark Fishmarket |
| Item Dropped | x3 Cure Bulb, Elixir of Queens, Grimoire Sylphe |
| Abilities | Pincer, Aqua Bubble, Tidal Rush |
| Weapon | None |
| Shield | None |
| Accessory | None |
| R. Arm | None |
| L. Arm | None |
| Mouth | None |
| Body | None |
| R. Leg | None |
| L. Leg | None |
Giant crabs whose acidic breath can melt even the strongest armor.
—In-game description
Giant Crab is an enemy in Vagrant Story.
Strategy
Edit
The Giant Crab appears as a boss battle in the Undercity. Attack its weak point at the mouth with a Piercing weapon attached with a Salamander Ruby for massive damage.
Related enemies
Edit
Ad blocker interference detected!
Wikia is a free-to-use site that makes money from advertising. We have a modified experience for viewers using ad blockers

Wikia is not accessible if you've made further modifications. Remove the custom ad blocker rule(s) and the page will load as expected.