Ad blocker interference detected!
Wikia is a free-to-use site that makes money from advertising. We have a modified experience for viewers using ad blockers

Wikia is not accessible if you've made further modifications. Remove the custom ad blocker rule(s) and the page will load as expected.
Giant's Right Hand
[[Final Fantasy IV: The After Years/Translations|]]

(

'

?)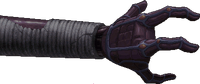 Statistics
Level
HP
?
101,101
Strength
Defense
70
0
Magic
Magic Defense
50
40
EXP
Gil
32,000
7,400
Giant's Right Hand is an enemy in Final Fantasy IV: The After Years exclusive to Final Fantasy IV: The Complete Collection. It is part of the Superboss Lost Babil, and is faced in the first part of the battle alongside Giant's Torso.
If the Torso is attacked, the Right Arm will move over it to intercept all attacks. The Right Hand largely uses Stone Touch, but may occasionally use Freezing Mist. Defeating the Torso causes a chain reaction, destroying the Right Arm also. If the Right Arm is killed first the Torso may use Self Destruct to destroy itself.
Related enemies
Edit