Geryon
Talk

16
13,960 pages on
this wiki
Final Fantasy IV Enemy
{{{SNES}}}
ゲリュオン (Geryuon)
{{{image}}}
Statistics
Level
HP
MP
{{{level}}}
{{{HP}}}
{{{MP}}}
Strength
Magic
{{{Strength}}}
{{{Magic}}}
Defense
M. Defense
Evasion
{{{Def}}}
{{{MDef}}}
{{{Evasion}}}
EXP
Gil
{{{EXP}}}
{{{Gil}}}

| | |
| --- | --- |
| Location | {{{Location}}} |
| Type | {{{Type}}} |
| Steal | {{{SNESSteal}}} |
| Item Dropped | {{{SNESDrop}}} |
| Abilities | {{{SNESAbilities}}} |
| Weak Against | {{{Weak Against}}} |
| Resistant to | {{{Resistant to}}} |
| Immune to | {{{Immune to}}} |
| Absorbs | {{{Absorbs}}} |
| Other Information | {{{Info}}} |
{{{J2e}}}
ゲリュオン (Geryuon)
{{{image}}}
Statistics
Level
HP
MP
{{{level}}}
{{{HP}}}
{{{MP}}}
Strength
Magic
{{{Strength}}}
{{{Magic}}}
Defense
M. Defense
Evasion
{{{Def}}}
{{{MDef}}}
{{{Evasion}}}
EXP
Gil
{{{EXP}}}
{{{Gil}}}

| | |
| --- | --- |
| Location | {{{J2e Location}}} |
| Type | {{{Type}}} |
| Steal | {{{J2e Steal}}} |
| Item Dropped | {{{J2e Drop}}} |
| Abilities | {{{J2e Abilities}}} |
| Weak Against | {{{J2e Weak Against}}} |
| Resistant to | {{{Resistant to}}} |
| Immune to | {{{J2e Immune to}}} |
| Absorbs | {{{Absorbs}}} |
| Other Information | |
{{{PS}}}
ゲリュオン (Geryuon)
{{{image}}}
Statistics
Level
HP
MP
{{{level}}}
{{{HP}}}
{{{MP}}}
Strength
Magic
{{{Strength}}}
{{{Magic}}}
Defense
M. Defense
Evasion
{{{Def}}}
{{{MDef}}}
{{{Evasion}}}
EXP
Gil
{{{EXP}}}
{{{Gil}}}

| | |
| --- | --- |
| Location | {{{PSLocation}}} |
| Type | {{{Type}}} |
| Steal | {{{PSSteal}}} |
| Item Dropped | {{{PSDrop}}} |
| Abilities | {{{PSAbilities}}} |
| Weak Against | {{{Weak Against}}} |
| Resistant to | {{{Resistant to}}} |
| Immune to | {{{Immune to}}} |
| Absorbs | {{{Absorbs}}} |
| Other Information | {{{Info}}} |
{{{GBA}}}
ゲリュオン (Geryuon)
{{{GBAimage}}}
Statistics
Level
HP
MP
{{{level}}}
{{{HP}}}
{{{MP}}}
Strength
Magic
{{{Strength}}}
{{{Magic}}}
Defense
M. Defense
Evasion
{{{Def}}}
{{{MDef}}}
{{{Evasion}}}
EXP
Gil
{{{EXP}}}
{{{Gil}}}

| | |
| --- | --- |
| Location | {{{GBALocation}}} |
| Type | {{{Type}}} |
| Steal | {{{GBASteal}}} |
| Item Dropped | {{{GBATreasure}}} |
| Abilities | {{{GBAAbilities}}} |
| Weak Against | {{{Weak Against}}} |
| Resistant to | {{{Resistant to}}} |
| Immune to | {{{Immune to}}} |
| Absorbs | {{{Absorbs}}} |
| Other Information | {{{Info}}} |
Geryon
ゲリュオン (Geryuon)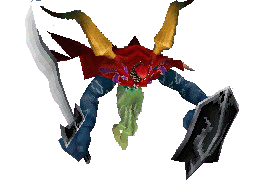 Statistics
Level
HP
99
200,000
EXP
Gil
800,000
99,999
| | |
| --- | --- |
| Location | Giant of Babil and Mount Ordeals |
| Steal | Nothing |
| Common Drop | None |
| Uncommon Drop | None |
| Rare Drop | None |
| Very Rare Drop | None |
| Abilities | Maelstrom, Lightning, Inferno, Tsunami, Gas, Stone Touch, Curse |
| Weak Against | None |
| Resistant to | None |
| Immune to | All except Cry, Slow, and Sap |
| Absorbs | Fire, Water, Earth, Wind |
{{{PSP}}}
ゲリュオン (Geryuon)
{{{PSPimage}}}
Statistics
Level
HP
MP
{{{level}}}
{{{HP}}}
{{{MP}}}
Strength
Magic
{{{Strength}}}
{{{Magic}}}
Defense
M. Defense
Evasion
{{{Def}}}
{{{MDef}}}
{{{Evasion}}}
EXP
Gil
{{{EXP}}}
{{{Gil}}}

| | |
| --- | --- |
| Location | {{{PSPLocation}}} |
| Type | {{{Type}}} |
| Steal | {{{PSPSteal}}} |
| Item Dropped | {{{PSPDrop}}} |
| Abilities | {{{PSPAbilities}}} |
| Weak Against | {{{Weak Against}}} |
| Resistant to | {{{Resistant to}}} |
| Immune to | {{{Immune to}}} |
| Absorb | {{{Absorbs}}} |
| Other Information | {{{Info}}} |
Geryon is an exclusive Superboss in the Nintendo DS remake of Final Fantasy IV in New Game + mode. He is known as the "Malice of the Four Fiends" and can only be battled on a second or third playthrough of the game. He can be found within the Giant of Babil after the defeat of the four Archfiends, or on Mount Ordeals after the Giant of Babil becomes inaccessible.
Geryon is armed with all of the special attacks used by the Elemental Archfiends. These include Scarmiglione's Gas, Cagnazzo's Tsunami, Barbariccia's Maelstrom and Lightning, and Rubicante's Inferno. It is also able to use Curse, Stone Touch, and an incredibly powerful physical attack.
An effective way to defeat this boss is to equip all characters with Adamant Armor and Cursed Rings to turn the resistance of the elemental moves into absorption, and to use a Lunar Curtain on your main attackers or on the whole party to nullify his melee damage. If you are properly protected against status ailments Geryon will be defeated easily.
Etymology
Edit
Geryon is the name of a demon in Dante's Divine Comedy. Its naming follows the trend of christening the Four Fiends after demons depicted on the poem. Appearing in Cantos 17 and 18, Geryon serves as the beast of transport between the seventh and eighth circles.