Geomancer (Final Fantasy III)
Talk

4
13,973 pages on
this wiki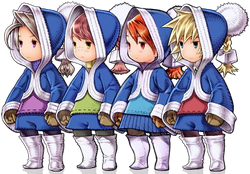 See also: Geomancer.
"Geomancers harness the power of nature itself, manifested in their different terrain attacks. Their damage potential rises exponentially by job level."
—In-game description
The Geomancer (風水士, Fuusuishi?) is a Job class in Final Fantasy III. It is gained from the Water Crystal in the NES version, while it is gained from the Fire Crystal in the DS and iOS versions. Geomancers are able to attack by tuning in to their natural surroundings and drawing out the latent powers around them. Essentially, a Geomancer is like a Mage who can unleash powerful "magic" attacks with no MP cost. The attack power increases with the Job level.
Statistics
Edit
Special Ability - Terrain (NES version)
The Terrain ability has various effects depending on the current environment and costs no MP. However, if all targets are missed during hit calculation the Backfire effect is triggered damaging the caster. Note that Terrain spells that target a single enemy do so by selecting at random from the available enemies.
| Name | Terrain | Power | Hit Rate | Element | Effect |
| --- | --- | --- | --- | --- | --- |
| Air Blade | Forest, Dungeon | 120 | 30% | Wind | Damage to one enemy. |
| Tornado | Sky | 120 | 60% | Wind | Damage to one enemy. |
| Quicksand | Desert | 0 | 30% | - (none) | Instantly defeats one enemy. |
| Sinkhole | Swamp | 0 | 40% | - (none) | Instantly defeats one enemy. |
| Rapids | River | 0 | 40% | Thunder | Instantly defeats one enemy. |
| Earthquake | Plains | 90 | 50% | Earth | Damage to all enemies. |
| Cave In | Underground | 120 | 40% | Earth | Damage to all enemies. |
| Waterspout | Sea | 120 | 60% | Water | Damage to all enemies. |
| Backfire | Anywhere | 0 | 100% | - (none) | User's HP is cut by 25% of maximum. |
Special Ability - Terrain (DS & iOS versions)
The Geomancer will summon a semi-random effect for no MP; the environment determines which effects may appear. Unlike in the NES version, Terrain never backfires, and DS version uses the following formula to calculate damage:

Name
Effect
Terrain

Black Hole

80% chance of Instant Death to one enemy.
50%: Southwest Saronia
40%: Eureka

Cave-In

Inflicts Earth elemental damage to one enemy.
38%: Deserts, Altar Cave, Mythril Mine, Sealed Cave, Tozus Tunnel, Cave of the Circle, Ancient Ruins, Ancients' Maze, Doga's Grotto, Cave of Shadows, Bahamut's Lair, and Falgabard

Earthquake

Inflicts Earth elemental damage to all enemies.
40%: Deserts, Altar Cave, Mythril Mine, Sealed Cave, Tozus Tunnel, Cave of the Circle, Ancient Ruins, Ancients' Maze, Doga's Grotto, Cave of Shadows, Bahamut's Lair, and Falgabard
22%: World of Darkness
Flame Burst
Inflicts Fire elemental damage to one enemy.
38%: Molten Cave
22%: World of Darkness
Ice Pillar
Inflicts Ice and Water elemental damage to one enemy.
40%: Sea, Underneath Sea, Nepto Shrine, Tower of Owen 1F, Saronia Catacombs, Sunken Shrine, ???, Cave of Tides, Amur Sewers, Lake Dohr, Falgabard Waterfall, Temple of Time, Subterranean Lake
23%: World of Darkness

Ice Storm

Inflicts Ice and Water elemental damage to all enemies.
50%: Ur
48%: Forest and Land (World Map), Dragon's Peak, Castle Sasune, Bahamut's Boss Fight, Crystal Tower, Dragon Spire, Castle Hein, Goldor Manor, Tower of Owen (except Floor 1), and Sky

Magma

Inflicts Fire elemental damage to all enemies.
40%: Molten Cave

Shadowflare

Major non-elemental damage to one enemy.
40%: Southwest Saronia and Eureka
2%: Deserts, Altar Cave, Mythril Mine, Sealed Cave, Tozus Tunnel, Cave of the Circle, Ancient Ruins, Ancients' Maze, Doga's Grotto, Cave of Shadows, Bahamut's Lair, Falgabard, Forest and Land (World Map), Dragon's Peak, Castle Sasune, Bahamut's Boss Fight, Crystal Tower, Dragon Spire, Castle Hein, Goldor Manor, Tower of Owen (except Floor 1), Sky, Molten Cave, Cave of Tides
Whirlpool
Roughly 33% chance of Instant Death to each enemy. Ice and Water elemental.
38%: Sea, Underneath Sea, Nepto Shrine, Tower of Owen 1F, Saronia Catacombs, Sunken Shrine, ???, Cave of Tides, Amur Sewers, Lake Dohr, Falgabard Waterfall, Temple of Time, Subterranean Lake

Wind Slash

Inflicts Wind elemental damage to one enemy.
50%: Forest and Land (World Map), Dragon's Peak, Castle Sasune, Bahamut's Boss Fight, Crystal Tower, Dragon Spire, Castle Hein, Goldor Manor, Tower of Owen (except Floor 1), Sky, and Ur.
23%: World of Darkness
20%: in Desert, Altar Cave, Mythril Mines, Sealed Cave, Tozus Tunnel, Cave of the Circle, Ancient Ruins, Falgabard, Bahamut's Lair, Cave of Shadows, Doga's Grotto, Ancient's Maze, Sea, Underneath Sea, Nepto Shrine, Tower of Owen 1F, Saronia Catacombs, Sunken Shrine, ???, Cave of Tides, Amur Sewers, Lake Dohr, Falgabard Waterfall, Temple of Time, Subterranean Lake, Molten Cave, and Eureka
Equipment
Weapons
Blessed Bell* | Diamond Bell | Earthen Bell | Rune Bell
Head Armor
Feathered Hat | Leather Cap | Ribbon
Body Armor
Gaia Vest | Leather Armor | Mage Robe | Vest
Arms Gear
Bronze Bracers | Diamond Bracers | Mythril Bracers | Protect Ring | Rune Bracers
Stat Growth
Edit
Level
Str
Agi
Vit
Int
Mnd
Level
Str
Agi
Vit
Int
Mnd

NES Version

DS & iOS Versions

1
10
10
10
20
5
1
5
5
5
5
5
10
14
17
14
26
10
10
10
10
10
10
10
20
18
23
18
31
14
20
15
17
15
17
15
30
22
30
22
37
19
30
20
24
20
24
20
40
26
36
26
42
23
40
24
31
24
31
24
50
30
43
30
48
28
50
29
38
29
38
29
60
34
49
34
53
32
60
34
44
34
44
34
70
38
56
38
59
37
70
38
51
38
51
38
80
42
63
42
64
41
80
43
58
43
58
43
90
46
69
46
70
46
90
48
65
48
65
48
99
50
75
50
75
50
99
52
71
52
71
52