Ad blocker interference detected!
Wikia is a free-to-use site that makes money from advertising. We have a modified experience for viewers using ad blockers

Wikia is not accessible if you've made further modifications. Remove the custom ad blocker rule(s) and the page will load as expected.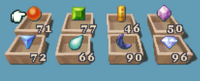 Gems (宝石, Hōseki?) are a special type of item in Final Fantasy: The 4 Heroes of Light that don't take space from the inventory, but are stored in a separate menu. The player can hold maximum of 99 gems of a certain type at once. Gems are received as battle spoils from enemies and found during battle with Merchant abilities. The rarest types of gems, Diamonds, are only received from bosses.
The gems can be sold to earn money, or they can be used to learn new abilities on the characters' crowns, or used to boost the characters' equipment in a shop in Urbeth. The further the player enhances their crowns or equipment, the more and rarer types of gems are required.
List of Gems
Edit
| Name | Image | Location | Description |
| --- | --- | --- | --- |
| Ruby | | Imp, Goblin, Jack Lantern, Lizardman, Falcon, Blood Bat, Myconid, Cowpel, Big Worm, Orc, Minotaur (2), Flan, Louhi-Greaps (2), Buffohelm, Vampire Bat, Orc Lord, Freki and Geri | A gem dropped by monsters, infused with great power. |
| Emerald | | Blood Bat, Imp, Big Worm, Cait Sith, Basilisk, Wight, Minotaur, Mandragora, Sand Devil (2) | A gem dropped by monsters, infused with very great power. |
| Topaz | | Goblin, Slime, Falcon, Lamia, Tokkaku, Batterfly, Trollud (4) | A gem dropped by monsters, infused with very, very great power. |
| Sapphire | | Giant Moth, Lizardman-Pirate, Succubus, Hellhound | A gem dropped by monsters, infused with miraculous power. |
| Lapis | | Buffohelm, Cowpel, Jack Lantern, Garm, Nue, Batterfly, Huginn, Mandragora, Freki and Geri, Iron Golem, Rattatox | A gem dropped by monsters, infused with truly miraculous power. |
| Aquamarine | | Lizardman, Cu Sith, Wraith, Nidhogg, Kaiser Penguin, Doppelganger, Behugemore, Evil Knight, Huginn, Skeleton, Ice Dragon, Boggle Bear | A gem dropped by monsters, infused with awesomely miraculous power. |
| Amethyst | | Metal Flan, Minotaur, Louhi-Greaps (2), Sand Devil, King Guera, Behugemore, Ice Dragon (2), Freki and Geri (2), Rolan (2), Mammon (3), Belphegor (3), Asmodeus (3), Leviathan (3), Lucifer (3), Satan (3) | A gem dropped by monsters, infused with power beyond measure. |
| Diamond | | Rolan (2), Mammon, Belphegor, Asmodeus, Leviathan, Lucifer, Satan | A gem dropped by monsters, infused with power beyond conception. |