Geezard
ハウリザード (

Haurizādo

?)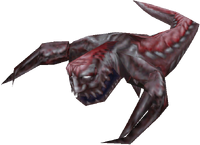 Statistics
Level
HP

0.15(Lv)² + 3(Lv) + 40

Level
HP

0.15(Lv)² + 3(Lv) + 40

1
43
19
151
STR

([2.8(Lv)] + [(Lv) / 5] - [(Lv)² / 180] + 18) / 4

MAG

([2.2(Lv)] + [(Lv) / 22] - [(Lv)² / 200] + 4) / 4

STR

([2.8(Lv)] + [(Lv) / 5] - [(Lv)² / 180] + 18) / 4

MAG

([2.2(Lv)] + [(Lv) / 22] - [(Lv)² / 200] + 4) / 4

5
1
18
11
VIT

((Lv) / 32) - (Lv) + (Lv) + 4

SPR

((Lv) / 6) - (Lv) + (Lv) + 1

VIT

((Lv) / 32) - (Lv) + (Lv) + 4

SPR

((Lv) / 6) - (Lv) + (Lv) + 1

4
1
4
4
SPD

((Lv) / 6) - [(Lv) / 12] + 3

EVA

((Lv) / 7) - [(Lv) / 14]

SPD

((Lv) / 6) - [(Lv) / 12] + 3

EVA

((Lv) / 7) - [(Lv) / 14]

3
0
5
1
EXP

5(Lv)² + 5

AP
EXP

5(Lv)² + 5

AP
10
1
100
1
Geezard
ハウリザード (

Haurizādo

?)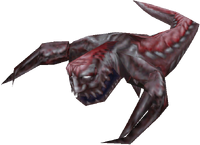 Statistics
Level
HP

0.15(Lv)² + 3(Lv) + 40

Level
HP

0.15(Lv)² + 3(Lv) + 40

20
160
29
253
STR

([2.8(Lv)] + [(Lv) / 5] - [(Lv)² / 180] + 18) / 4

MAG

([2.2(Lv)] + [(Lv) / 22] - [(Lv)² / 200] + 4) / 4

STR

([2.8(Lv)] + [(Lv) / 5] - [(Lv)² / 180] + 18) / 4

MAG

([2.2(Lv)] + [(Lv) / 22] - [(Lv)² / 200] + 4) / 4

19
11
25
16
VIT

((Lv) / 32) - (Lv) + (Lv) + 4

SPR

((Lv) / 6) - (Lv) + (Lv) + 1

VIT

((Lv) / 32) - (Lv) + (Lv) + 4

SPR

((Lv) / 6) - (Lv) + (Lv) + 1

4
4
4
5
SPD

((Lv) / 6) - [(Lv) / 12] + 3

EVA

((Lv) / 7) - [(Lv) / 14]

SPD

((Lv) / 6) - [(Lv) / 12] + 3

EVA

((Lv) / 7) - [(Lv) / 14]

5
1
5
2
EXP

5(Lv)² + 5

AP
EXP

5(Lv)² + 5

AP
105
1
150
1
Geezard
ハウリザード (

Haurizādo

?)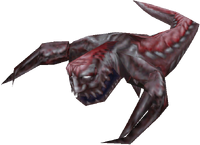 Statistics
Level
HP

0.15(Lv)² + 3(Lv) + 40

Level
HP

0.15(Lv)² + 3(Lv) + 40

30
265
100
1,840
STR

([2.8(Lv)] + [(Lv) / 5] - [(Lv)² / 180] + 18) / 4

MAG

([2.2(Lv)] + [(Lv) / 22] - [(Lv)² / 200] + 4) / 4

STR

([2.8(Lv)] + [(Lv) / 5] - [(Lv)² / 180] + 18) / 4

MAG

([2.2(Lv)] + [(Lv) / 22] - [(Lv)² / 200] + 4) / 4

25
16
65
44
VIT

((Lv) / 32) - (Lv) + (Lv) + 4

SPR

((Lv) / 6) - (Lv) + (Lv) + 1

VIT

((Lv) / 32) - (Lv) + (Lv) + 4

SPR

((Lv) / 6) - (Lv) + (Lv) + 1

4
6
7
17
SPD

((Lv) / 6) - [(Lv) / 12] + 3

EVA

((Lv) / 7) - [(Lv) / 14]

SPD

((Lv) / 6) - [(Lv) / 12] + 3

EVA

((Lv) / 7) - [(Lv) / 14]

6
2
11
7
EXP

5(Lv)² + 5

AP
EXP

5(Lv)² + 5

AP
155
1
505
1
| Lv | HP | STR | MAG | VIT | SPR | SPD | EVA | EXP |
| --- | --- | --- | --- | --- | --- | --- | --- | --- |
| 1 | 43 | 5 | 1 | 4 | 1 | 3 | 0 | 10 |
| 2 | 46 | 5 | 2 | 4 | 1 | 3 | 0 | 15 |
| 3 | 50 | 6 | 2 | 4 | 1 | 3 | 0 | 20 |
| 4 | 54 | 7 | 3 | 4 | 1 | 3 | 0 | 25 |
| 5 | 58 | 8 | 3 | 4 | 1 | 3 | 0 | 30 |
| 6 | 63 | 8 | 4 | 4 | 2 | 4 | 0 | 35 |
| 7 | 68 | 9 | 4 | 4 | 2 | 4 | 1 | 40 |
| 8 | 73 | 10 | 5 | 4 | 2 | 4 | 1 | 45 |
| 9 | 79 | 11 | 5 | 4 | 2 | 4 | 1 | 50 |
| 10 | 85 | 12 | 6 | 4 | 2 | 4 | 1 | 55 |
| Lv | HP | STR | MAG | VIT | SPR | SPD | EVA | EXP |
| --- | --- | --- | --- | --- | --- | --- | --- | --- |
| 11 | 91 | 12 | 7 | 4 | 2 | 4 | 1 | 60 |
| 12 | 97 | 13 | 7 | 4 | 3 | 4 | 1 | 65 |
| 13 | 104 | 14 | 8 | 4 | 3 | 4 | 1 | 70 |
| 14 | 111 | 14 | 8 | 4 | 3 | 4 | 1 | 75 |
| 15 | 118 | 15 | 9 | 4 | 3 | 4 | 1 | 80 |
| 16 | 126 | 16 | 9 | 4 | 3 | 4 | 1 | 85 |
| 17 | 134 | 16 | 10 | 4 | 3 | 4 | 1 | 90 |
| 18 | 142 | 17 | 10 | 4 | 4 | 5 | 1 | 95 |
| 19 | 151 | 18 | 11 | 4 | 4 | 5 | 1 | 100 |
| 20 | 160 | 19 | 11 | 4 | 4 | 5 | 1 | 105 |
| Lv | HP | STR | MAG | VIT | SPR | SPD | EVA | EXP |
| --- | --- | --- | --- | --- | --- | --- | --- | --- |
| 21 | 169 | 19 | 12 | 4 | 4 | 5 | 2 | 110 |
| 22 | 178 | 20 | 12 | 4 | 4 | 5 | 2 | 115 |
| 23 | 188 | 21 | 13 | 4 | 4 | 5 | 2 | 120 |
| 24 | 198 | 21 | 13 | 4 | 5 | 5 | 2 | 125 |
| 25 | 208 | 22 | 14 | 4 | 5 | 5 | 2 | 130 |
| 26 | 219 | 23 | 14 | 4 | 5 | 5 | 2 | 135 |
| 27 | 230 | 23 | 15 | 4 | 5 | 5 | 2 | 140 |
| 28 | 241 | 24 | 15 | 4 | 5 | 5 | 2 | 145 |
| 29 | 253 | 25 | 16 | 4 | 5 | 5 | 2 | 150 |
| 30 | 265 | 25 | 16 | 4 | 6 | 6 | 2 | 155 |
| Lv | HP | STR | MAG | VIT | SPR | SPD | EVA | EXP |
| --- | --- | --- | --- | --- | --- | --- | --- | --- |
| 31 | 277 | 26 | 17 | 4 | 6 | 6 | 2 | 160 |
| 32 | 289 | 27 | 17 | 5 | 6 | 6 | 2 | 165 |
| 33 | 302 | 27 | 18 | 5 | 6 | 6 | 2 | 170 |
| 34 | 315 | 28 | 18 | 5 | 6 | 6 | 2 | 175 |
| 35 | 328 | 29 | 19 | 5 | 6 | 6 | 3 | 180 |
| 36 | 342 | 29 | 19 | 5 | 7 | 6 | 3 | 185 |
| 37 | 356 | 30 | 20 | 5 | 7 | 6 | 3 | 190 |
| 38 | 370 | 30 | 20 | 5 | 7 | 6 | 3 | 195 |
| 39 | 385 | 31 | 20 | 5 | 7 | 6 | 3 | 200 |
| 40 | 400 | 32 | 21 | 5 | 7 | 6 | 3 | 205 |
| Lv | HP | STR | MAG | VIT | SPR | SPD | EVA | EXP |
| --- | --- | --- | --- | --- | --- | --- | --- | --- |
| 41 | 415 | 32 | 21 | 5 | 7 | 6 | 3 | 210 |
| 42 | 430 | 33 | 22 | 5 | 8 | 7 | 3 | 215 |
| 43 | 446 | 34 | 22 | 5 | 8 | 7 | 3 | 220 |
| 44 | 462 | 34 | 23 | 5 | 8 | 7 | 3 | 225 |
| 45 | 478 | 35 | 23 | 5 | 8 | 7 | 3 | 230 |
| 46 | 495 | 36 | 24 | 5 | 8 | 7 | 3 | 235 |
| 47 | 512 | 36 | 24 | 5 | 8 | 7 | 3 | 240 |
| 48 | 529 | 37 | 25 | 5 | 9 | 7 | 3 | 245 |
| 49 | 547 | 37 | 25 | 5 | 9 | 7 | 4 | 250 |
| 50 | 565 | 38 | 26 | 5 | 9 | 7 | 4 | 255 |
| Lv | HP | STR | MAG | VIT | SPR | SPD | EVA | EXP |
| --- | --- | --- | --- | --- | --- | --- | --- | --- |
| 51 | 583 | 39 | 26 | 5 | 9 | 7 | 4 | 260 |
| 52 | 601 | 39 | 26 | 5 | 9 | 7 | 4 | 265 |
| 53 | 620 | 40 | 27 | 5 | 9 | 7 | 4 | 270 |
| 54 | 639 | 40 | 27 | 5 | 10 | 8 | 4 | 275 |
| 55 | 658 | 41 | 28 | 5 | 10 | 8 | 4 | 280 |
| 56 | 678 | 42 | 28 | 5 | 10 | 8 | 4 | 285 |
| 57 | 698 | 42 | 28 | 5 | 10 | 8 | 4 | 290 |
| 58 | 718 | 43 | 29 | 5 | 10 | 8 | 4 | 295 |
| 59 | 739 | 43 | 29 | 5 | 10 | 8 | 4 | 300 |
| 60 | 760 | 44 | 30 | 5 | 11 | 8 | 4 | 305 |
| Lv | HP | STR | MAG | VIT | SPR | SPD | EVA | EXP |
| --- | --- | --- | --- | --- | --- | --- | --- | --- |
| 61 | 781 | 45 | 30 | 5 | 11 | 8 | 4 | 310 |
| 62 | 802 | 45 | 30 | 5 | 11 | 8 | 4 | 315 |
| 63 | 824 | 46 | 31 | 5 | 11 | 8 | 5 | 320 |
| 64 | 846 | 46 | 31 | 6 | 11 | 8 | 5 | 325 |
| 65 | 868 | 47 | 32 | 6 | 11 | 8 | 5 | 330 |
| 66 | 891 | 47 | 32 | 6 | 12 | 9 | 5 | 335 |
| 67 | 914 | 48 | 33 | 6 | 12 | 9 | 5 | 340 |
| 68 | 937 | 49 | 33 | 6 | 12 | 9 | 5 | 345 |
| 69 | 961 | 49 | 33 | 6 | 12 | 9 | 5 | 350 |
| 70 | 985 | 50 | 34 | 6 | 12 | 9 | 5 | 355 |
| Lv | HP | STR | MAG | VIT | SPR | SPD | EVA | EXP |
| --- | --- | --- | --- | --- | --- | --- | --- | --- |
| 71 | 1009 | 50 | 34 | 6 | 12 | 9 | 5 | 360 |
| 72 | 1033 | 51 | 35 | 6 | 13 | 9 | 5 | 365 |
| 73 | 1058 | 51 | 35 | 6 | 13 | 9 | 5 | 370 |
| 74 | 1083 | 52 | 35 | 6 | 13 | 9 | 5 | 375 |
| 75 | 1108 | 53 | 36 | 6 | 13 | 9 | 5 | 380 |
| 76 | 1134 | 53 | 36 | 6 | 13 | 9 | 5 | 385 |
| 77 | 1160 | 54 | 36 | 6 | 13 | 9 | 6 | 390 |
| 78 | 1186 | 54 | 37 | 6 | 14 | 10 | 6 | 395 |
| 79 | 1213 | 55 | 37 | 6 | 14 | 10 | 6 | 400 |
| 80 | 1240 | 55 | 37 | 6 | 14 | 10 | 6 | 405 |
| Lv | HP | STR | MAG | VIT | SPR | SPD | EVA | EXP |
| --- | --- | --- | --- | --- | --- | --- | --- | --- |
| 81 | 1267 | 56 | 38 | 6 | 14 | 10 | 6 | 410 |
| 82 | 1294 | 56 | 38 | 6 | 14 | 10 | 6 | 415 |
| 83 | 1322 | 57 | 38 | 6 | 14 | 10 | 6 | 420 |
| 84 | 1350 | 57 | 39 | 6 | 15 | 10 | 6 | 425 |
| 85 | 1378 | 58 | 39 | 6 | 15 | 10 | 6 | 430 |
| 86 | 1407 | 58 | 40 | 6 | 15 | 10 | 6 | 435 |
| 87 | 1436 | 59 | 40 | 6 | 15 | 10 | 6 | 440 |
| 88 | 1465 | 59 | 40 | 6 | 15 | 10 | 6 | 445 |
| 89 | 1495 | 60 | 41 | 6 | 15 | 10 | 6 | 450 |
| 90 | 1525 | 60 | 41 | 6 | 16 | 11 | 6 | 455 |
| Lv | HP | STR | MAG | VIT | SPR | SPD | EVA | EXP |
| --- | --- | --- | --- | --- | --- | --- | --- | --- |
| 91 | 1555 | 61 | 41 | 6 | 16 | 11 | 7 | 460 |
| 92 | 1585 | 61 | 42 | 6 | 16 | 11 | 7 | 465 |
| 93 | 1616 | 62 | 42 | 6 | 16 | 11 | 7 | 470 |
| 94 | 1647 | 62 | 42 | 6 | 16 | 11 | 7 | 475 |
| 95 | 1678 | 63 | 43 | 6 | 16 | 11 | 7 | 480 |
| 96 | 1710 | 63 | 43 | 7 | 17 | 11 | 7 | 485 |
| 97 | 1742 | 64 | 43 | 7 | 17 | 11 | 7 | 490 |
| 98 | 1774 | 64 | 43 | 7 | 17 | 11 | 7 | 495 |
| 99 | 1807 | 65 | 44 | 7 | 17 | 11 | 7 | 500 |
| 100 | 1840 | 65 | 44 | 7 | 17 | 11 | 7 | 505 |
Geezard is a monster in Final Fantasy VIII. It is a useful enemy, since it drops lots of Screws that are needed to upgrade many weapons. Its Triple Triad card is the first on the card stock, and it is arguably the game's weakest monster.
Geezard Card

Element
None
Refine
1 refines into 5 Screws
Drop
Geezard
Card
Geezard
Level 1 (Monster Card)
Win
N/A
Other appearances
Edit


This article or section is a stub about an enemy in Final Fantasy Record Keeper. You can help the Final Fantasy Wiki by expanding it.